In my cookbook Prep-Ahead Meals from Scratch, I share money saving tips and easy cooking hacks as well as over 100 recipes. This tip for freezing raw ginger root prevents food waste and makes it easier to grate fresh ginger.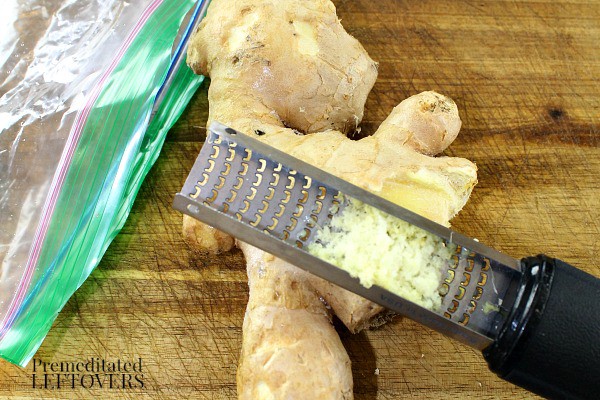 I love the flavor that fresh ginger lends a dish, but I can never use up ginger before it goes bad. I have come to a compromise. I buy fresh ginger and use it from the refrigerator for a the first week. Then I place it in a lidded container or a resealable freezer bag. Then I store the ginger root in the freezer.
How to Freeze Raw Ginger Root
Place ginger root in a sealable freezer bag. Remove as much air as possible when sealing the bag. Store in the freezer until needed for a recipe.
If you wish to place the ginger root in a lidded container instead of a plastic bag, wrap the cut portion of the ginger with plastic wrap to prevent ice from forming on the open flesh of the ginger root.
When a recipe calls for fresh ginger, I pull the frozen ginger out of the freezer, and while still FROZEN, remove a bit of skin, and grate the needed amount. Then I place the ginger root back in the container and place it back in the freezer immediately.
One benefit that I have to discovered of frozen ginger is it is easier to grate ginger when frozen. Just peel the outer skin and grate – it will produce a fine grate, without any of the stringiness when frozen.
Raw ginger root can keep in the freezer for 4 -6 months, but I usually use mine up within 3 months. Freezing ginger not only reduces waste, but saves money. It also means that I always have ginger on hand to use in recipes – no need to run to the store for one ingredient!
A few of the recipe that call for fresh ginger from my cookbook Prep-Ahead Meals from Scratch:
Asian Chicken and Rice Soup (page 23)
Asian Chicken Pasta Salad (page 19)
Mango Glazed Chicken and Vegetables (page 36)
Asian Pork and Vegetable Frittata (page 58)
Thai Pulled Pork Wraps (page 74)
Mongolian Beef Meatballs (page 108)
Apricot Glazed Meatballs (page 111)
Garlic-Ginger Green Beans (page 159)
Orange ginger Snap Peas (page 174)