My daughter's friend shared the idea of using granola bars to make a pie crust with my daughter. It is an easy alternative to making a graham cracker pie crust or a cookie pie crust and it only uses 2 ingredients: crunchy granola bars and butter.
Granola Bar Pie Crust Recipe
Yield: 1 – 9in. pie crust
Prep Time: 10 minutes
Cooking Time: 5 minutes
Ingredients:
8 – 9 oz crunchy granola bars (use gluten-free granola bars to make this crust gluten-free)
4 tablespoons butter, melted
Directions:
Crush granola bars in a food processor or in a bowl with a potato masher:
Add melted butter to crushed granola and mix well.
Press into greased 9 inch pie dish. Bake at 350 degrees for 5 minutes.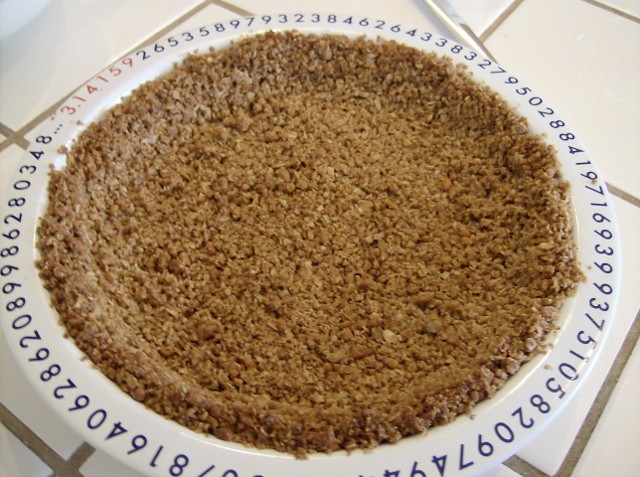 Once the pie shell is cool, follow the directions on your pie recipe to complete your pie. We used the pie chell to make the below Mixed Berry Pie Recipe.
Mixed Berry Pie Recipe
Yield: 8 servings
Prep Time: 15 – 20 minutes
Cooking Time: 5 minutes + 1 hour refrigeration to set
Ingredients:
3/4 cup sugar
3 Tablespoons cornstarch
1 1/3 cups cold water
1/4 cup blackberry fusion gelatin powder
1 – 8oz. pkg. of cream cheese, softened
1/4 cup powdered sugar
1 tablespoon milk
1 teaspoon vanilla
3 cups berries
In a small saucepan combine the sugar, cornstarch, and water until smooth. Bring to a boil. Cook and stir for 2 minutes, or until thickened. Remove from heat; stir in gelatin until dissolved. Cool to room temperature. Refrigerate until slightly thickened.
In a small bowl, combine cream cheese, powdered sugar, milk, and vanilla. Spread the cream cheese mixture over the pie crust. Arrange berries on top of the cream cheese mixture. Spoon the gelatin mixture over berries. Refrigerate until set.
Yes, it is a pi pie dish. There are a few math geeks residing in our home. 🙂
More Pie Recipes
Chocolate Pecan Pie Recipe with Pecan Crust
German Chocolate Pie Recipe with Coconut Pie Crust