We enjoyed the vegetables that we grilled to make our grilled salad so much that we decided to make a faux stir-fry by grilling veggies. I love grilling with my husband. It ends up being a team effort. Mostly I am just a back-seat griller, but he puts up with it to have company while he is standing over the grill.
I used all of the vegetables that we usually enjoy in a stir-fry and they all did just fine on the grill. I marinated them in Asian dressing for an hour before placing them on the grill and then added a little dressing to them after we pulled them off the grill.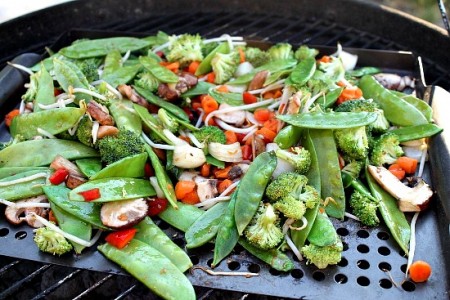 You can buy woks for the grill
, but we made do with our grill tray
. We made a vegetarian stir-fry, but you could easily drill a chicken breast or two wlile you are grilling the vegetables.

Grilled "Stir Fry"
Ingredients
3 cups snow peas
3 cups broccoli
1 cup mushrooms
1 cup carrots
1 cup peppers
1 cup bean sprouts
1 large onion
Asian Dressing Ingredients:
¼ cup peanut butter
3 tablespoons honey
⅓ cup rice vinegar
3 tablespoons soy sauce ( I use Bragg's Liquid Aminos to make this gf)
2 tablespoons apple juice
2 tablespoons oil
1 teaspoon grated ginger
¼ teaspoon garlic powder
Directions
In a glass bowl, combine peanut butter and honey.
Microwave for 20 seconds to soften the peanut butter.
Add the vinegar, juice, oil, ginger, and garlic powder. Use a whisk to thoroughly combine the ingredients.
Place the vegetable in a large bowl with a lid. Pour ½ cup of dressing over the veggies. Place the lid on the bowl and shake vigorously to coat.
Marinate for one hour.
Light the grill.
Place the vegetables on a grilling tray and grill for 10 - 15 minutes, turning regularly. The time will vary depending on how hot your frill is.
Remove from the grill, coat with ¼ to ½ of the reserved dressing.
Serve over rice or noodles.
More Recipes from the Grill: