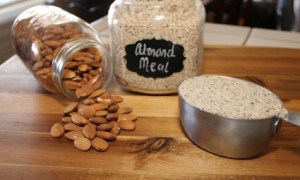 I like using almond meal in recipes in place of flour. It is healthy and naturally gluten-free, but it can be quite expensive. I started experimenting with making my own almond meal from organic almonds that I purchased in bulk. I have discovered that you can make almond meal (which is also called almond flour or almond powder) several different way, and they are all quite easy.
Tips for Making Almond Meal:
You can use blanched almonds (almonds with the skin removed) or unblanched almonds. I usually use unblanched almonds, unless I have a recipe that specifically calls for blanched almond meal.
You can use a blender, food processor, or a very clean coffee grinder to make your almond flour.
You can use whole almonds or slivers to make almond flour. If I use whole almonds, I coarsely chop them before grinding them.
Use a sifter. After grinding your almonds for about 20 seconds, put the almond meal through a flour sifter. The fine almond flour will go through and the pieces that still need to be ground will stay in  the sifter and you can put them back in the blender to process them for a few more seconds.
Do not over process the almonds or you will end up with almond butter, which is delicious, but not helpful if you need almond flour for baking. For this reason, I like to work in small batches, so I don't over process any of the almonds.

How to Make Almond Meal (Almond flour)
Directions
Coarsely chop whole almonds if necessary.
Place ½ cup almonds in food processor, blender or coffee grinder.
Pulse for 15 - 20 seconds or until your almonds have a flour-like consistency.
Sift the almond meal through a flour sifter and reprocess any large particles.
Repeat until you have the needed amount of flour.
 More Ingredients You Can Make at Home:
How to Make  a Corn Syrup Substitute
How to Make Self-Rising Flour and Baking Powder