Use this tutorial on how to make rose water with your rose petals to create a rosewater to use in baking and in homemade personal products.
Last week I shared my fast and easy method for making rose water. The downside to the fast method is the rosewater is either a greenish or brownish color. For some recipes that is fine, but if you are adding it to a white cake or sugar cookie, it will discolor the final product. This week, I wanted to share the method I use when I want to create a clear rosewater. This method is a bit longer, and a little more involved but it produces a crystal clear, flavorful rosewater.
You should only use rose petals that have not been treated with any pesticides when making rose water. You want your petals to be fresh; I collect my rose petals in the morning and use them right away.
I have explained the set up in the directions, but this is what it looks like: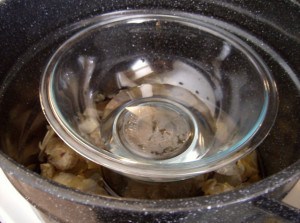 I put a pyrex bowl on top of an inverted pyrex bowl. This increases the likely hood that the bowl will catch the condensation that drips down from the inverted lid:
How to Make Rose Water
Ingredients
8 cups loosely packed freshly picked rose petals
6 - 8 cups of distilled water
ice
Directions
Rinse the rose petals.
Place a heat proof bowl in the center of a large pot ( I use my enamel canning pot). If you want you can place the bowl on top of another heat proof bowl that has been inverted (this will raise the bowl closer to the top of the pot).
Place the rose petals around the bottom of the pot, making sure not to get any in the bowl.
Cover the rose petals with the water, making sure not to get any in the bowl.
Place the lid on the pot upside down and fill the depression with ice. ( Be careful not to put in too much ice; you don't want it to overflow when it melts).
Cook over a medium-high heat until the water begins to boil. Then lower the flame and simmer for up to 2 hours. Replace the melted ice with fresh ice as needed. Make sure the water doesn't boil down. If it gets too low add some more distilled water.
The water that collects in the bowl is your rose water. Transfer it to a sterilized bottle or jar. The rose water will keep in the refrigerator for up to a month.
Related Posts:
Gluten-Free Shrewsbury Cakes ( a recipe using rose water)
How to Make Candied Flowers
How to Make Simple Syrup