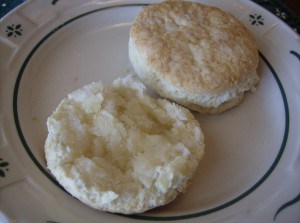 On Saturday, Vickie shared a recipe for biscuits that only required 2 ingredients: self-rising flour and whipping cream. I really wanted to try them, but I didn't have self-rising flour and I definitely didn't want to go out in the snow to get it, so I decided to make my own self-rising flour.

How to Make Self Rising Flour
Ingredients
2 cups of all-purpose flour
3 teaspoons of baking powder
¼ teaspoon salt
Directions
Sift the ingredients to thoroughly combine.
Store unused portion in an airtight container.
Notes
This recipe can be halved or doubled depending on your baking needs.
Don't have baking powder on hand? You can make that too!
How to Make Baking Powder (Recipe)
1 teaspoon baking soda
2 teaspoons cream of tartar
Mix the ingredients thoroughly.
Let's say that hypothetically, you only had cake flour on hand but you want to make self-rising flour or just do some baking with a recipe that calls for all-purpose flour. I say hypothetically because what weirdo would keep cake flour on hand, but not all-purpose flour?
How to Substitute Cake Flour for All-Purpose Flour
For each cup of all-purpose flour substitute 1 cup plus 2 tablespoons of cake flour.
So what if you had whipping cream, but a handsome man talked you into using it to top a pie, leaving you without whipping cream for Sunday Morning Biscuits?
Substitute for Whipping Cream
1/3 cup melted butter
3/4 cup milk
Stir melted butter and milk together until combined. Yields 1 cup. This substitution works well when baking, but you cannot make whipped cream with it.
And what if after your 3 year old rolled out the dough, you remember that you don't have a biscuit cutter. Or that you do, but it is out in the sand box which is covered with snow!

A glass works well as an improvised biscuit cutter.
I will let you decide how many substitutions were used in making 2 (or 5) Ingredient Biscuits.
What are your favorite make-do tips?
This post is linked to Frugal Tuesday Tip, Works For Me Wednesday and Frugal Friday.