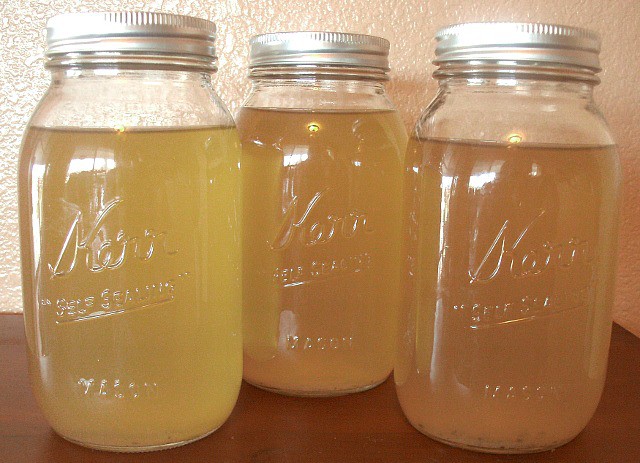 If you are going to make broth in a slow cooker, you need to be prepared to use it for dinner. If you don't not only will your senses revolt, but so will your family! The aroma of broth cooking a in a slow cooker permeates the entire house and as my daughter says "deceptively smells like food". So after making a batch of vegetable broth, I usually use some of it to make Minestrone Soup.
Making homemade vegetable broth is very frugal, especially if you use veggies from your garden. It is easier to make than bone broths, because you don't have to worry about the bones or the fat.
While I have given approximate measurements for the ingredients, don't forget that you can use vegetable scraps to make up a portion of the vegetables used in this vegetable broth recipe. I add carrot peels, celery tops, and odd bits of onion to a container in the freezer. On broth making day, I pull out the frozen vegetable scraps and add it to the slow cooker to supplement the vegetables used in the broth.
I have listed my favorite spices to use in vegetable broth, but feel free to experiment and tailor the spices to match your preferences.

How to Make Vegetable Broth in a Slow Cooker
Ingredients
2½ - 3 onions
6 - 8 cloves garlic
6 - 8 stalks celery
6 - 8 carrots
1 large potato
16 cups of water
1 teaspoon parsley
1 teaspoon basil
1 teaspoon sage
1 teaspoon oregano
dash of pepper
Directions
Add the water to Slow Cooker.
Do not peel the vegetables. Just wash them and coarsely chop them. Add them to the water.
Add spices and pepper to taste.
Cook on low for 8 hours.
Strain the broth through a fine mesh colander.
You can use the broth immediately, place it in the refrigerator for up to 5 days or freeze it. If you freeze the broth, leave room for expansion.
More Homemade Broth Recipes:
How to Make Beef Broth in a Slow Cooker
How to Make Chicken Broth in a Slow Cooker