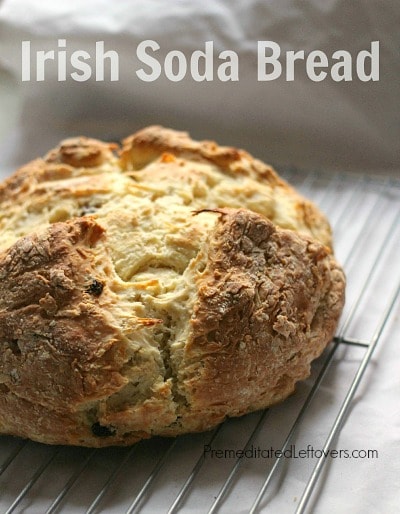 St. Patrick's Day is coming up soon and all of us will embrace any Irish ancestry we can find in our lineage, even if we have to go back many generations to find it. My husband and I both have Irish ancestors. His come from a noble line; mine are Black Irish. For us, St. Patrick's Day is a day to pass on a little of our heritage as well as celebrate the life of St. Patrick. We read books about St. Patrick and read St. Patrick's prayer at dinner. You can find a Free Printable St. Patrick's Prayer here.
This Irish Soda Bread would make a lovely addition to Corned Beef and Cabbage.

Irish Soda Bread
Ingredients
4 cups flour
4 Tbsp sugar
1 tsp salt
1 tsp baking soda
4 Tbsp butter, cold
1 cup raisins
1 large egg, lightly beaten
1¾ cups buttermilk
Directions
Preheat the oven to 375 degrees F.
Line a sheet pan with parchment paper - alternatively you can use a cast iron pan.
Mix the flour, sugar, salt, and baking soda in a large bowl.
With two knives or a paddle attachment on a stand mixer, cut the butter into the dry ingredients until the butter is mixed in well then mix in raisins.
Create a well in the mixture and pour in your egg and buttermilk. Stir the dry ingredients into the liquid slowly with a wooden spoon until it is solid enough to kneed.
Transfer the dough to a lightly floured surface and kneed together to form a ball, careful not to over-kneed the dough. The dough should remain somewhat shaggy looking. If you are using a sheet pan the more circular the better as the bread will spread out a bit while baking.
Transfer the dough to your sheet pan and use a large knife to cut an X into the dough about 1 inch deep.
Bake in oven for 45-55 minutes, or until a cake tester comes out clean. If you are using a cast iron pan it will most likely take 55 minutes as it takes longer to heat up than a baking sheet. The bread should sound hollow when tapped.
Remove to a cooling rack for 5 minutes. Serve warm or at room temperature.
More St. Patrick's Day Ideas
Free Printable St. Patrick's Prayer
How to Make Corned Beef and Cabbage in a Pressure Cooker
Thanks to Elizabeth of Frugal Mom Eh! for sharing her recipe with me.