For a Game Day party and as part of a sponsored post for Collective Bias®, I made this Team Banner using Simply Value Paper Plates from Smart & Final. I also created this layered hot pizza dip using ingredients from Smart & Final.



Are you getting anxious for the Big Game? Is your favorite team still in the running? My team is! So yesterday, I ran to Smart & Final to pick up some things for a Game Day Party.
When we have a large crowd, I will use paper plates, paper napkins and plastic forks, but I hate spending a lot of money on something that will be used once and then thrown out. If you live in California, Arizona, or Nevada, you can go to Smart & Final to pick these items up. They are a warehouse store, but they don't have a membership fee.
I was able to pick up a package of 50 Simply Value Foam Plates for $1.65. One of the things I like about Smart & Final is that you can pick up large quantities of items, but you also have the #ChooseSmart option of buying one or two tomatoes instead of an entire case. So I can buy paper plates in bulk for a party, but only buy small amounts of the ingredients I need to prepare the different recipes.
Since I bought a package of 50 Simply Value Foam Plates, I had a few extras that we used to create a banner.
This game day banner is easy enough to make that you can have your children create it while you are making the appetizers for the Big Game party. The colors and the number of paper plate you need will vary based on your favorite team.
How to Make a Game Day Banner with Paper Plates
Items Needed:
8 1/2 – 9 1/2 Paper or Styrofoam Plates (I used Simply Value 8 7/8 Foam Plates)
Colored Paper in your team's colors
2 sided tape or glue
4 – 6 inch letter stickers (I used 4 inch for the letters and 6 inch for the numbers)
Paint pen or markers
hole punch
string or twine
Directions:
1. Use a marker or paint brush to add your team's colors to the edge of the paper plate.
2. Cut out the center of one unpainted paper plate to create a template. You will use the template to cut out circles from colored paper in your team's colors.
3. Trace around the template on colored paper and then cut out the circles.
4. Tape or glue your paper circles to the center of the paper plates.
5. Use sticker letters (and in my case numbers) to spell out your team's name. I recommend putting one letter per plate. If you don't have large stickers, you can use Word to print out the letters, but that will involve more cutting. My team uses white numbers that are outlined in black, so once we adhered the white letters to the paper, we traced the letters with a black marker.
6. Use a hole punch and place a hole at approximately 1 and 11 o'clock on the plate:
7. Run string or twine through your paper plates. Have the string go in from the front on the first hole, run the string across the back of the plate and then have the string come in through the back on the second hole, so that the string doesn't run across the front of the banner.
8. Attach your banner to push pins to hang it up.
If you have invited fans from the opposing team, you can let the kids create a banner for both teams. Don't worry about perfection, this is just meant to be a fun activity to let your kids show their team spirit.
How to Make Layered Hot Pizza Dip
At every Big Game party, a large portion of those gathered are there for the food and commercials. They might not admit it out loud, but it is true, so I do not want to disappoint them. This year I will be adding a Layered Hot Pizza Dip to the appetizer buffet.



Instead of putting all of the pizza topping on top, I place them in layers in the dip.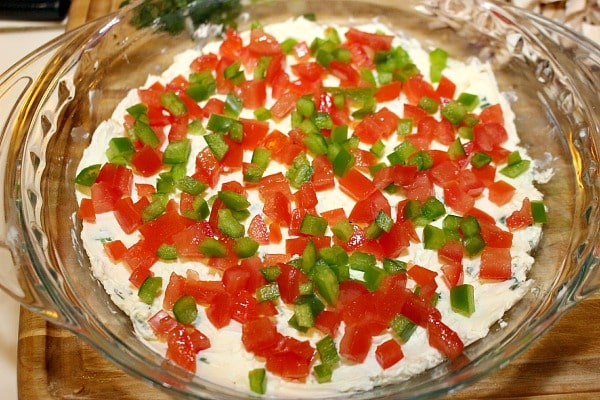 The first layer is cream cheese that is blended with, mozzarella cheese, green onions, and garlic. Then I add diced tomatoes and bell pepper.



I spoon the pizza sauce over the tomatoes and peppers and then I add layers of sliced green onions, diced mushrooms, and pepperoni.



Then I add cheese, pepperoni slices, and sprinkle a few green onion slices on top and the pizza dip is ready to go in the oven.



After 15 minutes in the oven, the Hot Pizza Dip is ready to add to the appetizer buffet. If you have a large crowd, you may want to make 2 or double the recipe and put it in a casserole dish because it will go fast once it hits the buffet.

Layered Hot Pizza Dip
Ingredients
1 - 8 oz package cream cheese, room temperature
1 cup mozzarella cheese, divided
2 green onions, divided
1 teaspoon garlic powder
2 medium tomatoes, diced
¼ cup diced bell pepper
1 cup pizza sauce (How to make homemade pizza sauce)
1 cup diced mushrooms
¼ cup chopped pepperoni pieces
1 cup cheddar cheese
pepperoni pieces
Directions
In a medium bowl, blend the cream cheese, ½ cup mozzarella cheese, 1 thinly sliced green onion, and 1 teaspoon garlic powder. Press into the bottom of a pie plate.
Layer tomatoes and bell peppers over the cream cheese mixture.
Spoon pizza sauce over the tomatoes and peppers.
Layer mushrooms, remaining green onion slices, and pepperoni pieces over the pizza sauce.
Spread cheddar cheese over the pepperoni pieces.
Sprinkle remaining mozzarella cheese over the cheddar cheese.
Top with whole pepperoni slices if desired and sprinkle with a few green onion slices, bell pepper pieces, and/or parsley.
Bake at 350 degrees for 15 minutes.
Serve while warm.
Need more recipe ideas? Find more Recipes here: Smart & Final Social Circular.