By spending an hour or two prepping ahead on the weekend, you can create quick and easy dinners all week long. Below I will share tips for how you can do a quick batch cooking session, prep-ahead meals, and save time cooking meals on busy weeknights.
Prep-Ahead Meals vs. Make-Ahead Meals
The primary difference between prep-ahead meals and make ahead meals is the time it takes. With make-ahead meals, you usually devote 4 or more hours to making complete dishes and freezing them. You may make 2 batches of the same recipe, but generally you make entire recipes, stopping short of cooking them, and then freeze the assembled ingredients until you are ready to thaw and then cook them. You may make enough for a week or spend then entire day making recipes for the month.
With prep-ahead meals, you spend 1 – 2 hours batch cooking the primary proteins, such as chicken, beef, pork, beans, and rice. After batch cooking the key ingredients, you store them in usable portions to be used in recipes. A prep-ahead session can also include chopping vegetables for recipes, grating cheese, and making homemade dressings and sauces. Then you use those pre-portioned cooked ingredients and fresh chopped vegetables to quickly create recipes through out the week.
In my cookbook Prep-Ahead Meals from Scratch, the first 4 chapters focus on a primary protein (chicken, beef, pork, and rice and beans) and include 4 – 6 different ways to batch cook that main ingredient. This allows you to choose a batch cooking technique that fits into your schedule and uses the appliances you have in your kitchen. The batch cooking instructions are followed by 20 recipes that use the batch cooked ingredient to make a quick and easy meal.
You can prep-ahead all 5 proteins for a wide variety of meals or just focus on 2- 3 to mix and match through out the week in recipes. I tend to make my decision based on what I find on sale that week at my local grocery store.
On Sunday afternoon, I did a one hour batch cooking session to prep ingredients for the coming week. Below is an overview of my Prep-Ahead Session.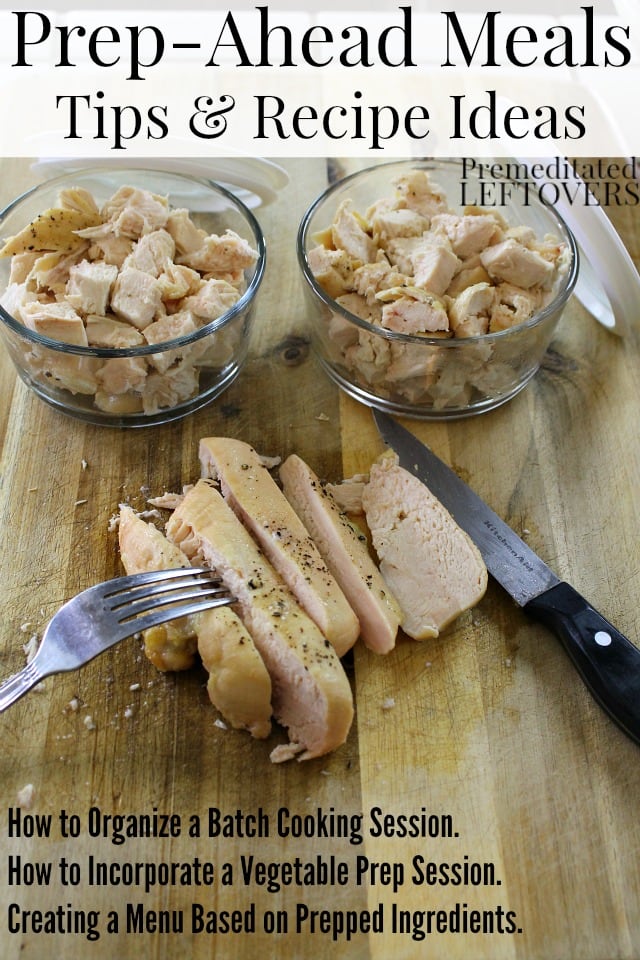 1 hour Prep-Ahead Session
Cook 1 pound of White Northern Bean in a Pressure Cooker (30 minutes)
Batch Broiled 6 pounds of boneless, skinless chicken breasts (15 – 20 minutes)
Batch bake 3 cups of Basmati Rice in the Oven (25 minutes)
Chop broccoli, onion, and acorn squash.
Sliced carrots, mushrooms, and celery.
Make a large salad.
Make dressings used on salads.
How I organized the batch cooking session and vegetable prep:
Start the beans in the pressure cooker.
Then put the rice in the oven.
While the beans and rice are cooking, chop and slice the vegetables.
Make a large garden salad to use as a side dish through out the week.
Once the rice is done, put the chicken in the broiler.
Let the beans and rice cool off, then store in usable portions. I store the rice in 2 cup portions and the beans in 1 3/4 cup portions.
Make the dressings for the recipes.
Once the chicken is done broiling, cut it into bite size pieces and store in usable portions. I store the chicken in 2 cup portions.
I store the cooked chicken, rice, and beans for the first 3 – 4 days worth of meals in the refrigerator. I freeze the chicken, rice, and beans for the meals on days 5 – 7 in the freezer. I pull them out to thaw in the refrigerator the night before they are needed. If I forget, I can quickly thaw them in the microwave.
Menu Using Prep-Ahead Meals from Scratch
I decide which recipes I am going to make before I start my batch cooking session. Since I wanted to used cubed chicken in most of the recipes, I broiled my chicken. If I had wanted to use shredded chicken then I would have used a different method such as the slow cooker or pressure cooker to produce shredded chicken.
The below recipes all come from my cookbook Prep-Ahead Meals from Scratch. The recipes are designed to be used with batch cooked ingredients. All of the recipes can be made in less than 30 minutes.
Sunday – Mediterranean Beans and Rice (page 124) serve over a bed of greens
Monday – Asian Chicken Pasta Salad (page 19)
Tuesday – Honey Mustard Chicken Salad Wraps (page 33) and a fruit salad
Wednesday -Tuscan White Bean and Acorn Squash Soup (page 123) and a garden salad
Thursday – Mango Glazed Chicken and Vegetables (page 36) served over cooked rice
Friday – Chicken Marsala Pizza on a Yeast-Free Crust (page 16) and a salad with Italian Artichoke Hearts (page 157)
Saturday – Asian Chicken and Rice Soup (page 23) and a garden salad
There will be 2 cups of cubed chicken, 1 3/4 cups of beans, and maybe a cup or two of rice leftover from my batch cooking session that I can either freeze for future use or use in easy lunches.
You can use the prep-ahead and batch cooking techniques with many recipes, but I will be sharing weekly menu plans and tips specific to the recipes in my cookbook Prep-Ahead Meals from Scratch.
If you would like more batch cooking tips and menu ideas based on Prep-Ahead Meals from Scratch, join the Prep-Ahead Meals from Scratch Facebook Group! I will be sharing quick prep-ahead ideas, menu plans, and tips for saving money on groceries with the group.