My first attempt to make Chai Spiced Meringue Cookies didn't work out. At all. I tried to modify my Flourless Chocolate Walnut Cookies and had disastrous results. I am just glad I used a jelly roll pan to bake the cookies on or I would have ended up with the batter overflowing on to the bottom of the oven.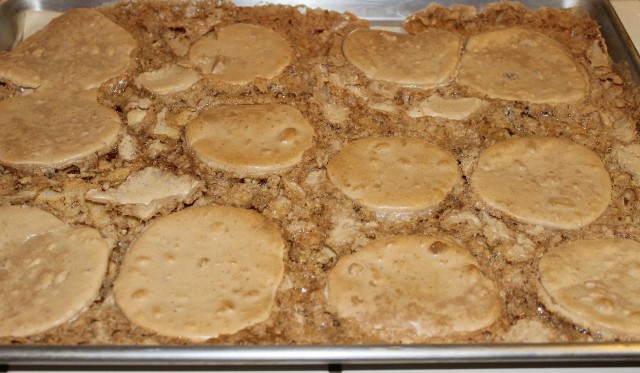 A Glimpse at My Supportive Family's Reaction
My daughter: Wow, that is an amazing disaster.
Me: Thanks.
My daughter: I'm really enjoying this. Your recipes rarely fail, but this is an unmitigated disaster.
Me: I'm glad you find this amusing.
My husband: Don't you mean a total and unmitigated disaster?
My daughter: No, I just meant an unmitigated disaster.
My husband (imitating Churchill): "We have sustained a total and unmitigated defeat". (In his voice) Oh wait, he said defeat in that quote not disaster. (Resumes Churchill imitation) "We are in the presence of a disaster of the first magnitude".
My daughter: I wasn't quoting Churchill, I was quoting Sheldon.
My daughter: Mmmm, these may look awful, but they taste great. They are a delicious disaster.
My husband: They are good. Is there some way that you can repurpose them?
Me: You're proud that you used repurpose in a sentence, aren't you?
My husband: I'm proud that I said it in a sentence with a straight face.
7 Ways to Saalvage a Cookie Failure
Most cookie failures can be salvaged in some way.
1. If you burn cookies, scrape the bottom off with a serrated knife.
2. If your cookies end up too crunchy or dry. Crumble them up and use them to top yogurt or ice-cream.
3. Ugly cookies, can be crushed up and used as a topping on coffee cake.
4. Dry cookies can be used in cake batter or cookies to create a unique flavor.
5. Ugly cookies can be broken up and used as a layer in a trifle.
6. If your cookies turn out too soft, top them with ice-cream and no one will know that it wasn't the ice-cream that made them mushy.
7. If all else fails, frost them. Frosting covers a multitude mistakes.
Or you can just eat them from the pan while making fun of the cook.