As part of a sponsored post for Collective Bias®, I created two #FreshFinds recipes, Slower Cooker White Chili and Fiesta Cornbread, using Lindsay Peppers from Save Mart.
Fall means chili at our house and chili means cornbread. And not just any cornbread, but Fiesta Cornbread!
The Fiesta Cornbread has a touch of heat and lots of flavor. It compliments the chili without completely stealing the show.
We live in the country in the Sierra Nevada foothills and while we enjoy the mild fall weather and gorgeous fall colors, we spend much of our weekends preparing for winter. After a day of repairing fences, leveling the pasture, loading the shed with hay, and installing heated water buckets, we need a stick-to-your-ribs kind of meal like chili.
Last weekend while my husband and son repaired an 8 foot section of fence that blew over in the high winds, I ran to Save Mart and picked up some Lindsay Peppers to make a batch of white chili. They had a blinkie coupon for $1.00 off a bottle of peppers. Score! I also picked up some cilantro, a lime, and chicken for the chili. And I bought some bell peppers and yogurt to make the cornbread.
When I make chili, I like to add several different types of peppers. This adds a depth of flavor and layers of heat. It also allows people to appreciate all the different flavors in the chili without being overpowered by the heat.
You can create your own mix to match the level of heat that you like. In our family we have 2 people who like mild chili, 2 people who like hot chili,and one person who likes a medium chili. I tend to make a mildish-medium chili and then I put bowls of sliced chilies on the the table. The people who want hot chili can add a few slices of jalapeno pepper directly to their bowl of chili.
Slow Cooker White Chili
Ingredients
1 medium onion, chopped
4 cloves of garlic, minced
1 pound chicken, cut in bite size pieces
15 oz can of corn, drained
5¼ cups cooked white beans or 3 – 15 oz. cans of white beans, undrained
¼ cup Lindsay Golden Greek (pepperoncini) Peppers, diced
3 tablespoons Lindsay Sweet Banana Peppers, diced
1 tablespoon Lindsay Jalapeno Peppers, diced
1 cup chicken broth
1 tablespoon cornstarch
1 teaspoon ground cumin
1 teaspoon oregano
juice and zest of 1 lime ~2 tablespoons
1 tablespoon fresh cilantro, chopped
Mexican cheese (optional)
Lindsay Sliced Peppers (optional)
Directions
In a frying pan, brown chicken with onions, and garlic.
Add the chicken, onion, and garlic to the slow cooker.
Add peppers, beans, corn, broth, corn starch, spices, lime juice, and cilantro to the slow cooker.
Stir the ingredients to combine.
Cover; cook on low heat for 4 hours.
Serve with warm. If desired top with cheese and a few sliced peppers.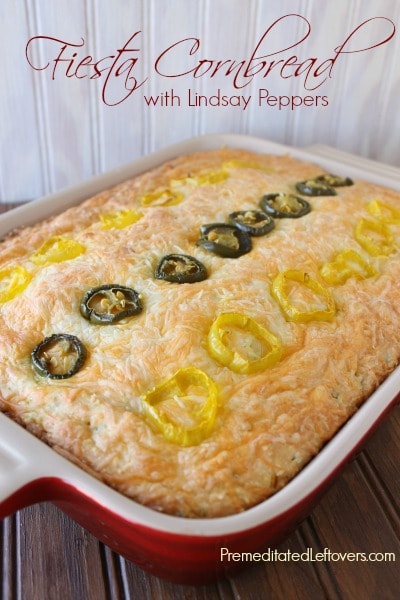 I like to make a Fiesta Cornbread to complement the flavor of the chili.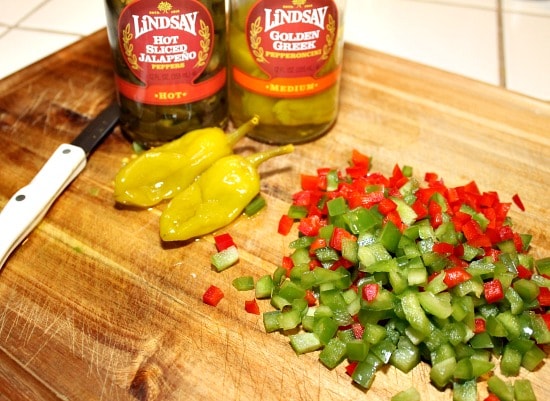 I use red peppers, bell peppers, and Golden Greek peppers inside the cornbread. This keeps it from being too hot for my children.
I top the cornbread with Mexican cheese, Sweet Banana Peppers and Jalapeno Peppers. Those of us who prefer less heat, grab a slice with a banana pepper on top. My husband and oldest son, like more heat, so they grab a a slice of cornbread with a jalapeno pepper on top.
Fiesta Cornbread
Ingredients
2 egg
½ cup butter, melted
1 - 15 oz can creamed corn
1¼ cup plain yogurt (or 2 - 6 oz containers)
1½ cup corn meal
2½ cups all-purpose flour*
½ cup sugar
1 tablespoon + 1 teaspoon baking powder
pinch of salt
½ cup diced red pepper
½ cup diced green pepper
¼ cup Lindsay Golden Greek Peppers
½ - 1 cup Mexican cheese
sliced Lindsay Jalapeno Peppers and sliced Lindsay Sweet Banana Peppers
Directions
Preheat oven to 350 degrees. Grease a 13 x 9 pan.
Combine eggs, butter, yogurt, and creamed corn in a medium bowl, stir well.
Add corn meal, flour, baking powder, sugar, and salt. Stir well.
Stir in red peppers, bell peppers, and Lindsay Golden Greek Peppers.
Pour the batter into the greased 13 x 9 pan.
Sprinkle cheese over the top. Arrange sliced Lindsay Jalapeno Peppers and sliced Lindsay Sweet Banana Peppers on the top.
Bake at 350 for 45 - 50 minutes or until an inserted knife comes out clean.
Notes
To make this cornbread gluten-free, replace the flour with 1 cup rice flour, 1 cup tapioca flour, ½ cup potato starch, and 1 teaspoon xanthan gum.
Save Mart is a great resource for recipes. Visit their Facebook page, Pinterest boards, and website for more Fresh Finds recipes.