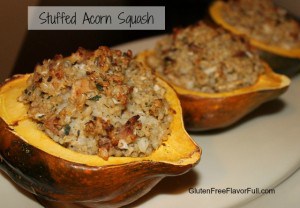 Stuffed acorn squash is a wonderful way to camouflage leftovers. It is such an elegant dish that nobody would suspect that you are repurposing leftover chicken and rice. However, it is so delicious that it would be worth the effort to make, even if you didn't have leftovers and had to start from scratch.
I like my acorn squash with a little bit to it, so I only bake them for 30 minutes, but if you like your squash softer, you can cook this for 40 minutes or even longer. However, if you cook it for more than 40 minutes, you are going to want to cover the top with foil so you don't over brown the tops.
Stuffed Acorn Squash
Ingredients
2 acorn squash
1 cup cooked chicken, diced
2½ cups cooked rice
½ cup onion, diced
4 cloves garlic, minced
1 teaspoon oregano
1 teaspoon thyme
1 teaspoon basil
½ teaspoon sage
½ teaspoon rosemary
Directions
Preheat oven to 400 degrees.
Cut the acorn squash in half and scoop out the seeds.
In a small bowl, combine chicken, rice, onion, garlic, and spices until thoroughly combined.
Divide the rice mixture between the 4 acorn squash halves.
Place acorn squash on a cookie sheet and bake at 400 degrees for 30 - 40 minutes or until the squash is fork tender.
Notes
Save the acorn squash seeds. Squash seeds are edible and are quite delicious when roasted.
More Delicious Recipes:
This recipe is shared with Foodie Friday.