I don't know how to survive without my coffee! This list of 10 Gifts For Coffee Lovers is sure to make you and everyone on your coffee loving list thrilled! This list first appeared on our friend Jamie's site A Frugal Home.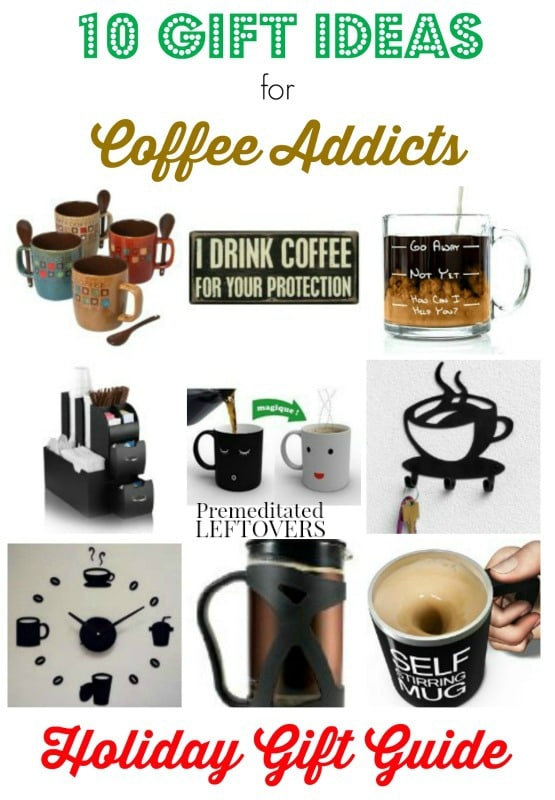 10 Gifts For Coffee Lovers
There are some great gifts for coffee lovers that anyone would love to receive. Gifting something unique to your friends and family is always special, and this list has some cool and unique gifts for coffee lovers that are affordable on any budget!
8-Piece Cafe Americano Mug Set with Spoons: These beautiful mugs are just what you want to display on your home coffee bar.
Black Cup Coffee Wall Clock: It's always time for coffee, and this fun clock is a great addition to any kitchen.
Coffee Condiment and Accessories Caddy: Keep all of your sugar, creamer, and other accessories for your morning coffee tucked neatly away in this great caddy.
I Drink Coffee For Your Protection Sign: This is ideal for a great kitchen addition that anyone would love to hang on their wall!
Heat Changing Smiling Mug: Everyone loves seeing this cute mug change from a sad face to a happy face as the coffee is added!
KONA French Press Coffee & Tea Maker: This is a great choice for gifts for coffee lovers. A French Press is the ideal way to make coffee, and this is a quality choice.
Novelty Go Away Coffee Mug: Use this mug to help others around you know if you are ready for interaction or need a bit more coffee first!
Black Steel Coffee Time Wall Mounted 3 Hook Key Rack: What a great addition to your home decor! Hang this in the kitchen as a hook for your keys and a reminder to never leave home without your coffee.
Self-Mixing Coffee Mug: No spoon needed for this super fun and cute self-mixing coffee mug!
Handmade Coffee Soap: The fresh smell of coffee in a rich moisturizing homemade soap is yet another great layer to help you wake up in the morning!
Grab these gifts for coffee lovers to help you and friends celebrate the joys of coffee every day!
More Gift Ideas: