These vintage signs will take you back in time and bring back so many memories!
Everywhere we go, we see these amazing vintage metal signs. They're hanging up on the walls of restaurants, school hallways, cool coffee shops, and an assortment of cafeterias. To be honest, I've wanted to purchase so many of them right off of the walls if I could. Of course the owners of the different businesses wouldn't allow me to, so I had to go on a hunt to find my own. I can't tell you how many I found that I just needed in my home. Mostly because they bring back so many memories of the past, shows where we've come from, how things have change in modern times, and just makes me feel so nostalgic.
Here are 10 Vintage Metal Signs to Make You Feel Nostalgic and take you back in time. If you find any amazing vintage metal signs, please send them my way! I would love to take a look at them.
10 Vintage Metal Signs to Make You Feel Nostalgic
Bubble Gum Topps Baseball Sign
This Bubble Gum Topps Baseball sign is the one of the first ones that I came across. My baseball loving, bubble gum chewing heart just melted away. Baseball has come such a long way, and has such a strong foothold in so many different countries and cultures. Topps was THE authority on all things baseball, gum, and trading cards. In fact, they are still in business!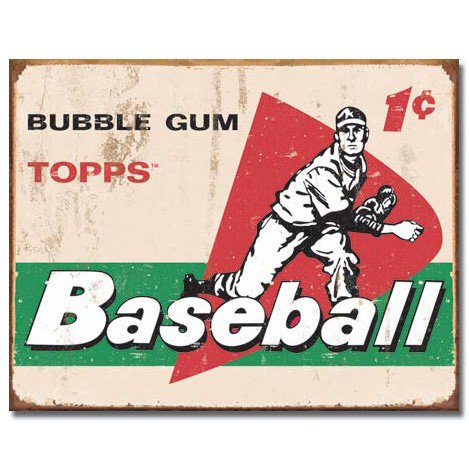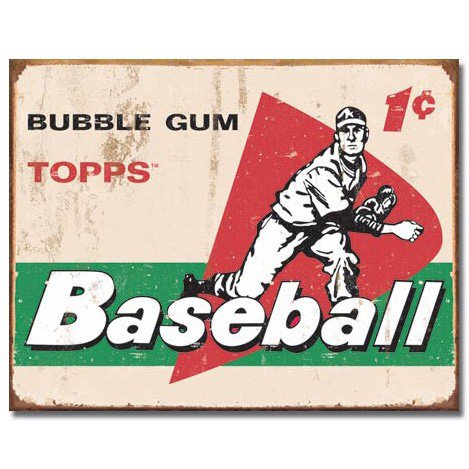 Topps Football Picture Card Vintage Sign
Yes. It's another sports one, but this Football vintage sign is just so fabulous! Football became one of the most popular sports that made everyone so emotional on so many different levels: excitement, joy, anger, and depression. Oh, and do you see that name again? Hello Topps! I see you're still going strong!
Hot Dog and Coke Vintage Sign
When was the last time that you can ever remember in getting a hot dog and glass bottle of Coca Cola for only $0.15? I can't even begin to fathom this amazing price. However, I love this sign because Coca-cola has been around forever and became the #1 beverage of choice for people since inception of the bubbly brew. At least it's not made with cocaine anymore, so that's a plus.
Little Miss Sunbeam Bread Vintage Sign
Sunbeam bread and baked goods was first introduced in 1942. They commissioned Ellen Segner to design a logo for them with theme of a young girl eating bread. Segner submitted over 300 sketches and designs and this blonde haired, bread eating young lady became the winning logo design! Sunbeam still uses this logo to date and that's what I'm in love with this Sunbeam vintage sign. It has so much history behind that little bread eating girl.
Moon Pie Marshmallow Sandwich Vintage Sign
I remember when I was actually able to tear into my first moon pie. It was love at first bite! All of the chocolately , gooey, delicious soft cookie-ness was just so amazing. I can almost taste it right now! That's why I absolutely LOVE this Moon Pie Marshmallow sandwich sign. Brings me back to my childhood, when I unwrapped my first one.
Rosie the Riveter Tin Sign
Then we have Rosie, also know as Rosie the Riveter! She is a true cultural icon of women working shipyards and factories during WWII. Just looking at this image makes so proud of where we have all come from. She was a force to be reckoned with that helped women become an even more product part of society, and just a feeble woman that we were once looked upon as.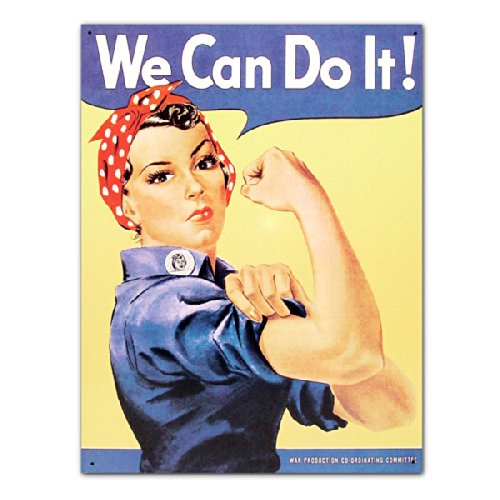 CCM Ice Hockey Skates Vintage Sign
Talk about your deep rooted history! CCM Skates has been around since 1905! This CCM Ice Hockey Skate sign just brings up so many motions for me. My family and I are HUGE hockey fans, and we always have been. From one generation to the next, the passion has been there. Though, I know I'm not alone and know that so many people absolutely adore this company!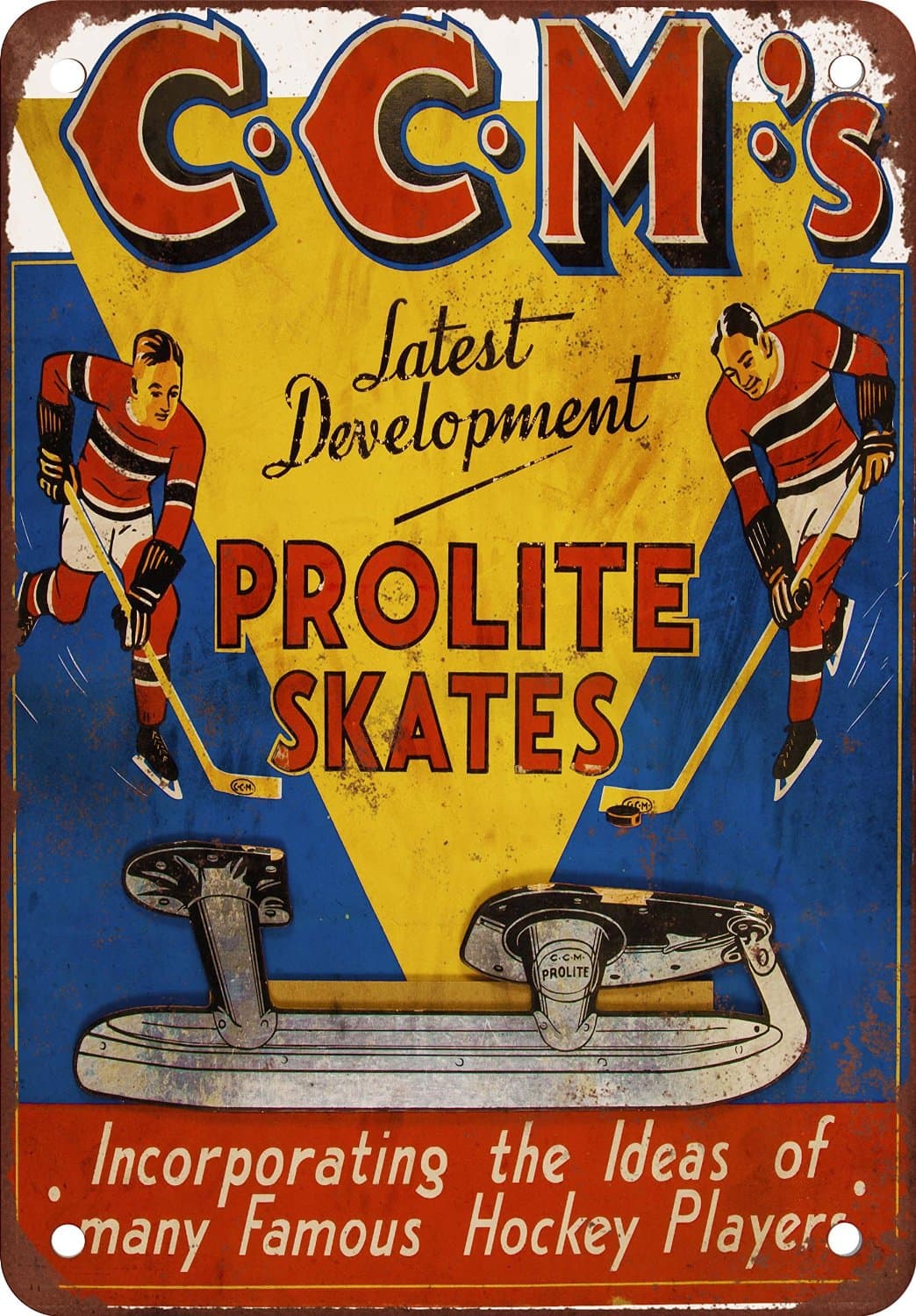 Rooster Brand Coffee Sign
Rooster Brand Coffee has been around since the early 1900's, and was known for it's amazing fragrant and flavorful coffee. A 5 pound bag of coffee once cost only $0.45! OH how I wish those were still the prices of these delicious brewed nectar. Red Rooster coffee described their coffee as the following: "As bracing as a gentle sea breeze, a morning cup will lighten the labors of your day."
Akron Milk Company Metal Sign
Remember the good ol' days where milk was delivered on your front porch in glass bottles? The Akron Milk Company was the originator mass supplying company of this! It's why I totally love this Akron Milk company sign is just everything. Fresh & unprocessed pure milk at your finger tips.
Texaco Metal Vintage Sign
You wouldn't think you would become nostalgic over a Texaco gas station sign, but I do! Texaco was the FIRST company to sell gasoline across the U.S. and Canada under an actual branded name in 1905! It also reminds of the days of a true full service station. When you went to get gas, they attendants always poured the gas for you, and they always checked your oil while they washed your windows. You never had to ask for these things to be done, it was just done without any question. That's the type of service I truly miss. It's something that I feel should TOTALLY come back.
These are my total top 10 favorite vintage metal signs. Do you have any that makes you feel nostalgic? If so, share them with me! I would love to see them and relive some wonderful memories.
More Frugal Home Decor:
10 Free Home Decor Sewing Patterns
10 Free Home Decor Crochet Patterns
4 Living Room Decorating Ideas on a Budget