I am always looking for fun ideas to gift, and this list of the 10 top Star Wars Gift Ideas is a great place to begin. It as originally shared by our friend Jaime from A Frugal Home.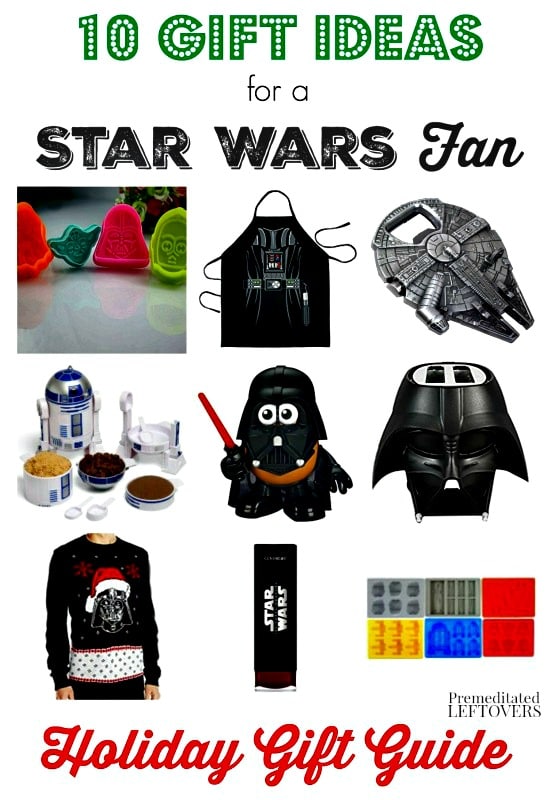 10 Star Wars Gifts Ideas
This year you can pick some or all of these great star wars gifts ideas to grab and add to your gift closet for friends, family, or last minute needs. Star Wars is one of those universally loved items that is hard to go wrong with. From the fun items that are ideal for the foodie to the sweater everyone loves, this list is a great place to begin when shopping for Star Wars gifts this year!
Set of 8 Star Wars Themed Ice Cube Trays: Grab these to use for ice cubes, but also as fun candy molds or even craft molds to make unique homemade crayons!
Star Wars Darth Vader Apron: This is a great option for the man of the house to encourage him to cook more often!
Playskool Mr. Potato Head Star Wars Darth Tater Toy: Every kid has to have a Mr. Potato Head at some point, and this one is a perfect addition to any toy bin. It's great for big kids too!
Exclusive Star Wars R2-D2 Measuring Cup Set: If you want to get everyone interested in the kitchen duties – here is a great way to get kids and adults alike helping out!
Star Wars Darth Vader Toaster: Make breakfast even more fun with this unique toaster that also prints a fun Star Wars themed icon on the bread!
Star Wars Darth Vader And Stormtrooper Salt & Pepper Shakers: Pass the salt and pepper in style with these ,fun "dark side" salt and pepper shakers!
CoverGirl Star Wars Limited Edition Lipstick: With tons of colors to choose from, every girl can show her Star Wars pride on her lips!
Star Wars Millenium Falcon Metal Bottle Opener: Never has opening a beer been more manly than when you use the Star Wars Millenium Falcon bottle opener!
4 Piece Star Wars Cookie Cutters: Serve up delicious cookies in the shapes of your favorite Star Wars characters!
Star Wars Men's Vader Claus Sweater: The Ugly Christmas Sweater parties are all the rage, and this is the ideal sweater you won't be embarrassed to wear!
Grab these amazing Star Wars Gifts to give to all of your friends and family that feel the force along with you!
More Gift Ideas: