I am always looking for some fun garden art projects and these using recycled materials are some of my favorites. When seasons begin to change and the garden doesn't look as pretty with blooms everywhere, bringing out these garden art ideas is a great way to keep the beauty in your garden year round.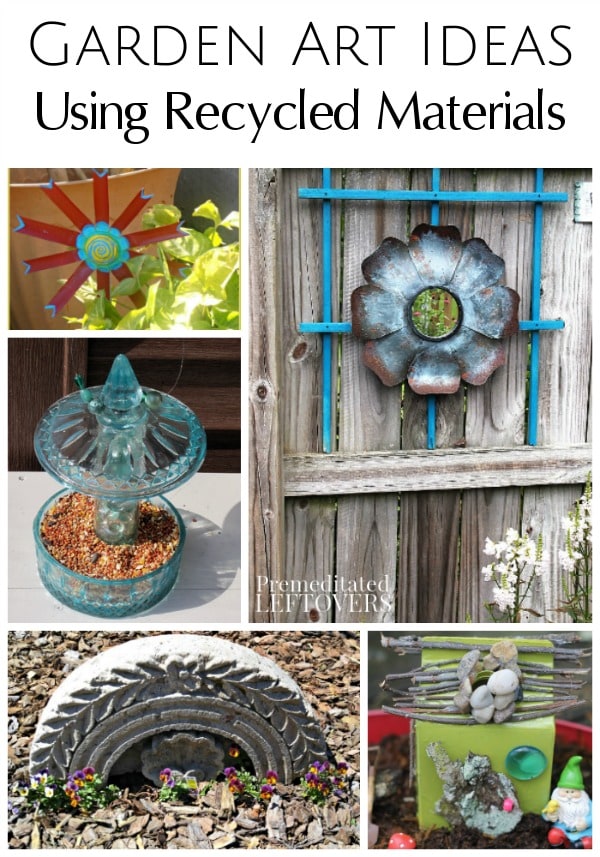 These Garden Art Ideas Using Recycled Materials utilize all manner of things you might find in your shed out back or even at a local thrift shop. From picking up a basket of old spoons to bend and create a whimsical wind chime, to utilizing bins and baskets, you'll love what you can create with these ideas.
Garden Art Ideas Using Recycled Materials
I am a huge fan of fairy gardens and gnomes. Jody created this Tea Party Fairy Garden for us that is just adorable. It is a fun garden art idea that uses upcycled items. She also did an Upcycled Milk Carton Fairy Garden or Gnome House and Grown Up Gnome Herb Garden Idea on You Brew My Tea that turned out super cute.
This Teapot Garden Feature from Confessions Of A Serial Do It Yourselfer is an adorable idea for really adding a feminine touch to your garden. For another fun idea that is feminine and unique, check out the Empress Of Dirt and her Upcycled Watering Cans and Kettles.
Kid-Friendly Garden Art Ideas are a must in our home. You can start with something simple with craft supplies you already have on hand like the Beaded Garden Art from Handmade Kids Art.
A Cultivated Nest offers some fun ideas on how to decorate your garden including Pallet Art Ideas that are fun, easy, and inexpensive ways to show some character throughout your garden. She even has a tutorial for How To Make Your Own Garden Globe.
I also love how industrious The Gardening Cook was to create this Recycled Bird Bath Plant Stand when she could have just thrown this out in the trash.
Moving on to other garden art ideas is easy when you see the beautiful artwork from Second Chance To Dream. They have created these super cute Sunflower Bursts using Soda Cans to go in a garden. They also have this amazing and fun way to create an Upcycle Candy Jar Bird Feeder that kids can help create.
More Garden Projects and Crafts:
How To Extend Gardening With Cold Frames And Cloches
How To Make An Oriole Bird Feeder