Just because the weather is colder doesn't mean we have to stop gardening. Find out how to extend gardening with cold frames, cloches, row covers, and portable greenhouses.
In Northern Nevada, we have a very short growing season. Our last frost is usually in June and our first frost is often in September. What is a devoted gardener to do? I learned early that if I wanted a really good harvest, I would need to make use of row covers, cloches, and portable greenhouses to extend my growing season.
How to Extend Gardening with Cold Frames and Cloches
I have found that with a little help, I can extend gardening by at least 3 more months. In a pinch, I created inexpensive row covers over my raised garden beds, but they were not very durable. I have found some frugal DIY cold frames, but that is not a catch-all solution for keeping plants alive during a freeze.
The use of portable greenhouses, cold frames, and cloches can prevent frost and even a hard freeze from damaging our gardens. Below are some items I have found useful in extending the growing season in my vegetable gardens. I prefer to use items that are portable, sturdy, and reusable, so I can use them over and over again.
Extending Growing Season with Row Covers
Garden Row Cover Portable Hot House
This Garden Row Cover is perfect for protecting the garden in your yard, on the deck, patio or balcony. You can use it to protect established plants in the fall or use it as a portable hothouse to start seedlings in the spring. Easy to assemble with a steel frame and waterproof transparent plastic cover. Each panel is a zipped roll-up panel for easy access, ventilation, and humidity control.
Tierra Garden Easy Fleece Tunnel Garden Cloche
This Fleece Tunnel Row Cover can be used in a plot garden or in raised bed gardens. It creates warmth and insulation while allowing air, moisture, and sunlight to filter through. It is quick and easy to set up. It has galvanized steel hoops, which go into the ground to secure and keep the tunnel in position. At each end is a drawstring to allow access and desired ventilation for your plants. It is available in different sizes.
Using a Cold Frame to Extend Your Garden
Double-Wide Folding Cold Frame Greenhouse
We have very high winds in my area. I can use a portable greenhouse close to my house where it is sheltered from the wind, but that limits the sun exposure as well. If I want to start my squash, melons, and eggplant early, I need something sturdier that I can put in a sunny location. This Double-Wide Folding Cold Frame Greenhouse has a clear polycarbonate cover which allows for full sun exposure by day and keeps out the cold at night. It is affordable and folds for easy storage when not is use. The frame is aluminum which is lightweight, but still strong enough to resist strong winds and inclement weather.
The Palram Cold Frame's panels are light-weight polycarbonate but strong enough to protect garden while allowing maximum sunlight in. The frame is adjustable and rust resistant. No special tools needed.
Wooden Cold Frame and Growhouse
This Wooden Cold Frame is attractive and works well against your home in a sunny location. The sturdy wooden construction is attractive and has twin-wall polycarbonate glazing. This frame has two slatted wooden shelves, double doors, and hinged door on top to easily allow air in on warmer days.
Using a Portable Greenhouse to Extend Gardening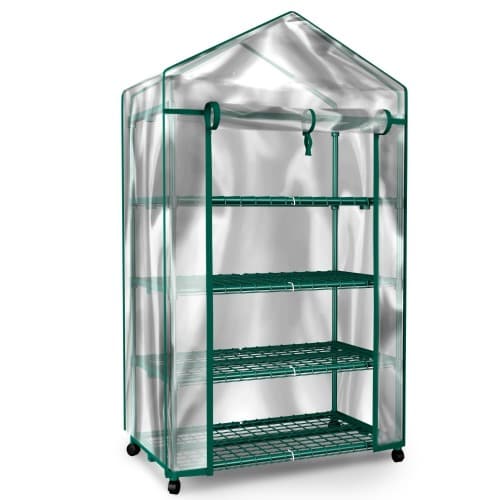 Plant Greenhouse on Wheels with Clear Cover
This Portable Greenhouse can be used indoors or out. I use it each spring to start my seeds and then harden them before transplanting them in the ground. You can keep it covered in the winter or take off the cover in the summer. It has a tubular steel frame and the shelves can carry 24 pounds each. The wheels are detachable, but I leave them on and move my seedlings into the garage on nights when I know there will be a hard freeze. Once you have the greenhouse where you want it, you can lock the wheels. No tools are required to assemble this greenhouse.
WALK-IN 6 Tier 12 Shelf Portable GREENHOUSE
This Walk-in Greenhouse is a good alternative to the more expensive fixed greenhouses. It is constructed with heavy duty powder-coated steel shelving. It uses an easy Hook and Loop connection vs. ties for easy assembly. The clear cover is manufactured from heavy duty material. This portable greenhouse includes an anchoring system to securely anchor the greenhouse to the ground with strong ropes.
Using a Cloche to Extend Your Growing Season
Tierra Garden Protective Plant Bell Cloche
When a freeze hit unexpectantly, I have been known to use any available container as a bell cloche! The problem with using empty milk jugs as a cloche is keeping them from blowing away in a storm. I like these Bell Cloches because they have holes around the base, so you can use pegs to secure them to the ground. This 3-pack of garden cloches are perfect for growing plants in vegetable plots and flower beds and to protect against weather, animals, and pests. The dome's shape allows for maximum light penetration and minimum reflection. It also includes a vent on top to easily control ventilation and humidity.
Tierra Garden Twist Up Tomato Cloche
Tomatoes and peppers cannot handle freezing temperatures. Where I live we have a 30+ degree temperature swing each day, so even when it feels warm during the day, we can still drop to freezing temperatures at night. And it still freezes as late as June, which makes for a very short growing season. A Tomato Cloche allows me to plant my tomatoes in May and get an extra month of tomatoes each summer. This lightweight cover has a generous height, adjustable vents, and comes with ground pegs to secure in position. It would work great with tomatoes or other tall plants. Quick and easy to use; pops up quickly, folds down neatly to store and best of all it's reusable.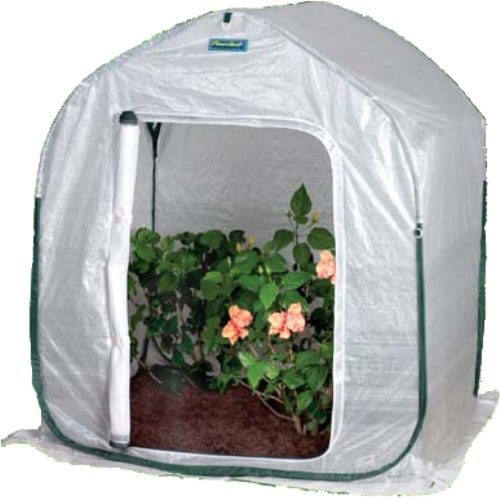 What to do about larger plants that don't fit under a bell cloche? This Pop-Up Plant House comes in 2 foot to 5 foot high versions that are tall enough to cover larger plants and bushes. It is quick and easy to set up. You can set it up on soil or hard surfaces in minutes. It protects your plants and extends your growing season. The fabric is coated with UV protection for longer life and promotes high humidity levels to create a superior growing environment. The open floor allows greenhouse to be setup over existing plants and bushes.
More Cold-Weather Gardening Tips
Winter Vegetable Gardening Guide for Mild Climates
$2.00 DIY Temporary Greenhouse
Extending Tomato Growing Season