This guide on how to grow horseradish includes everything you need to know about growing horseradish from roots.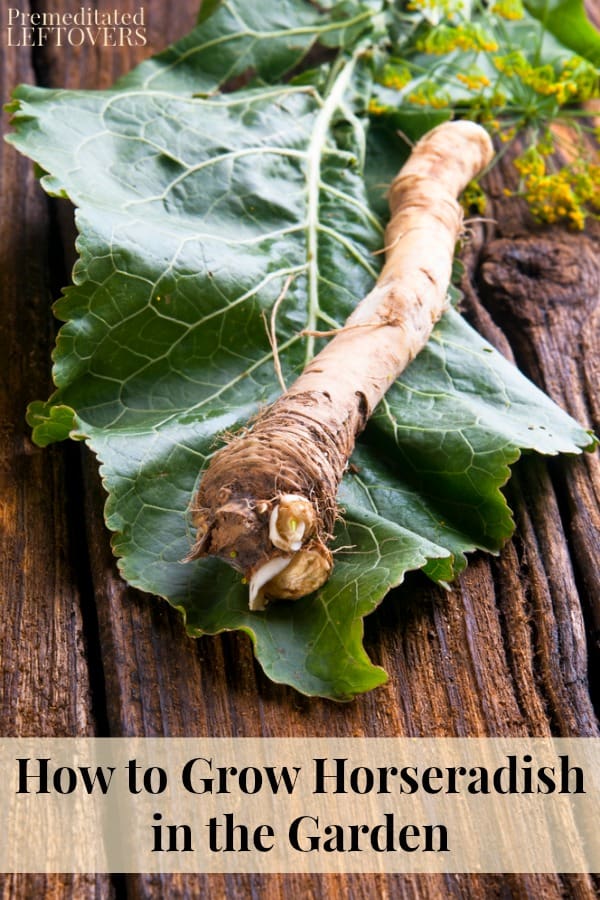 Horseradish isn't just a condiment in a jar before it ended up in the jar it started off its life as a garden plant! Did you know you can grow your own horseradish right in your own backyard? You can! Just think of all the recipes you could experiment with. Look below at some helpful tips for growing horseradish, and see how fun it can be to produce this plant right in your own garden. It has been called one of the easiest plants to grow, so even if you have a less than green thumb you have no need to fret. Here is what you need to know.
How to Grow Horseradish
First, it is important to mention that you won't be able to find horseradish seeds, and in most cases, you will need to plant from a piece of root. Head to a local greenhouse and see if they have horseradish root cuttings. If not, you should be able to find some via online gardening catalogs.
Because the horseradish plant is planted from the root and not seed, we will bypass the "how to plant from seed" portion of this tutorial.
How to plant horseradish root:
Once you have your horseradish root in hand, it is time to get it in the soil! Begin by cutting off the top half of the root. This part can actually be saved and used in kitchen recipes. The bottom half will be used for planting.
There are two times of year you can plant: early fall and late spring. When planting, you want to be sure you are using well-loosened soil that is nutrient rich and drains well. Be sure your soil is loose and aerated at least 12 inches deep.
When planting the root, place it at an angle. A 45 degree or so angle works best. Bury it so 2 inches is peeking out from the soil. There is no need to worry about spacing, as one plant is typically enough to produce all of the horseradish you may need. Should you decide you want to plant multiples, they should be spaced about 3 feet apart from each other.
How to care for horseradish roots:
This is the best part! Once you plant the root, you can kind of…forget it! Just give the root a good 2 inches of water a week, and keep mulch thick around the base of the root. This will help keep moisture in and offers the root additional support.
How to grow horseradish in containers:
Horseradish tends to spread, and quickly, which is why planting it in a container is a good option. You will need a roomy container per one plant, at least 18 inches by 18 inches to be safe. You will still use the same soil suggestions and planting methods as mentioned above. It will be important to find a safe space for your planter since horseradish does take a long time to grow.
When to harvest horseradish:
While horseradish is simple to grow, waiting is a little more challenging. Your horseradish root will reach maturity in about one year. It is a perennial, so once you plant it you can leave it and allow it to do its thing.
After about a year, you can dig up the main root. An ideal time to harvest is after all of the foliage has been killed due to frost. Remove the side roots when you remove the main root, pull up, wash, and store in a cool place. Horseradish roots last a long time when refrigerated, so you can store them for a good 2-3 months!
Once you have your mature horseradish root, you can simply grate it and use the shavings in your own condiment recipes.
Are you ready to give horseradish a try? Consider these tips for how to grow your own horseradish now so you can enjoy fresh horseradish root later!
More Vegetable Gardening Guides: