This gluten-free Earthquake Cake recipe easy to make and can be served in the pan you baked it in making it easy to take to potlucks.
Have you ever had an Earthquake Cake? They are amazingly delicious! Coconut, pecans, and molten cream cheese lava bursting through the fissures in the chocolate cake. One of my friends describes this cake as a "chocolate love bomb". If you haven't had Earthquake Cake before, you want to put it on your to-try list.
Gluten-Free Earthquake Cake
Earthquake cakes are usually made by doctoring a packaged cake mix, but I decided to make a Gluten-Free Earthquake Cake from scratch by adapting my gluten-free chocolate cake recipe because the only way to improve on this cake would be to make it entirely from scratch!
The first layer is coconut and pecans. You pour the chocolate cake mix over the coconut and pecans.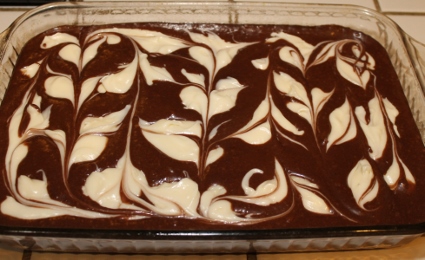 Drop tablespoons of the cream cheese mixture onto the cake mix and then run a knife through it to spread it throughout the cake mix.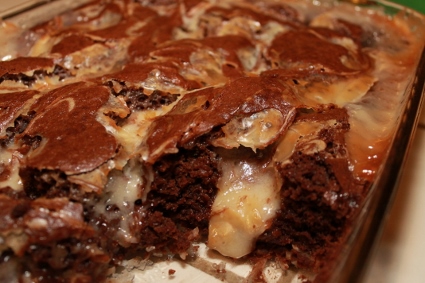 The finished product isn't exactly pretty. In fact, we sometimes call this a volcanic explosion cake. But what it lacks in looks, it more than makes up for with the flavorful combination of ingredients.
Printable Gluten-Free Earthquake Cake Recipe
Gluten-Free Earthquake Cake
Ingredients
¾ cup white rice flour
¾ cup tapioca flour
¼ cup potato starch
1 teaspoon guar gum
1 tablespoon baking powder
2 cups sugar
¾ cup + 2 tablespoons cocoa powder
⅔ cup oil
1 cup boiling water
½ cup milk (or rice milk)
1 teaspoon gf vanilla
2 eggs
1 cup shredded coconut
1 cup pecans chopped
4 oz. of cream cheese, softened
4 oz. of butter, melted
2 cups powdered sugar
Directions
Preheat oven to 350 degrees. Grease a 13 x 9 Baking Dish.
Mix the coconut and pecans together. Sprinkle the coconut mixture on the bottom of the baking dish:
In a large bowl combine white rice flour, tapioca flour, potato starch, guar gum, and sugar.
Place cocoa in a small bowl. Pour the boiling water over the cocoa.
Add oil, milk, eggs, and vanilla to the cocoa mixture.
Add the liquids to the flour mixture and beat for 2 –3 minutes on high.
Pour over the coconut mixture.
Blend the butter, cream cheese and powdered sugar together.
Drop by the tablespoon full on top of the cake mix:
I take a knife and run it between the lumps of the cream cheese mixture.
Bake at 350 for 45 minutes or until an inserted toothpick comes out clean. Let cool in pan placed on top of a wire rack.
More Gluten-Free Cake Recipes:
This recipe is shared at Gluten-Free Wednesdays and Allergy-Free Wednesday.