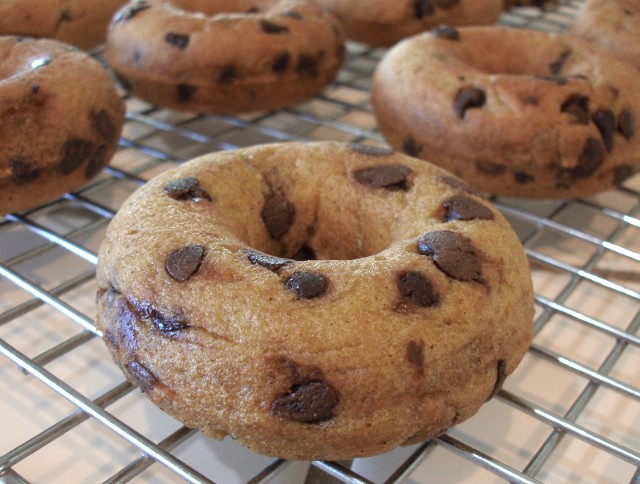 Today, I caught the baking bug. As I was baking, I periodically called my kids in to taste test my creations. On one of my daughter's trips to sample a cake she announced that she loved fall because when I talk about cooking with squash it means something baked with pumpkin rather than a side dish with yellow squash and zucchini.
My oldest son has been asking for donuts ever since I bought a Sunbeam Donut Maker
last week. This morning I found the box open and my son reading the directions. I was definitely slacking in his eyes. So in between experimenting with apple recipes, I whipped up a batch of Gluten-Free Pumpkin Doughnuts. The addition of mini chocolate chips was an act of contrition.
I used both the donut maker and my Norpro Donut Pans
. The doughnuts cooked with the donut maker were prettier and cooked faster. The doughnuts cooked in donut pans were lighter and fluffier. I have directions for both cooking methods.

Gluten-Free Pumpkin Doughnuts Recipe with Chocolate Chips
Ingredients
¾ cup white rice flour
½ cup tapioca flour
¼ cup potato starch
¾ teaspoon xanthan gum
½ cup brown sugar
1½ teaspoons baking powder
¼ teaspoon baking soda
1 teaspoons cinnamon
½ teaspoon ginger
¼ teaspoon nutmeg
¼ teaspoon salt
½ cup pumpkin puree
1 eggs
¼ cup oil
½ cup milk (I used almond milk)
½ cup mini chocolate chips
Directions
Preheat oven to 350 degrees. Grease doughnut pans.
In a medium bowl, mix flours, potato starch, xanthan gum, sugar, baking powder, baking soda, salt, and spices.
Add pumpkin, egg, milk, and oil.
Beat with an electric mixer on low speed just until mixed.
Stir chocolate chips in by hand.
Fill the donut pans ⅔ full. Bake at 350 degrees for 12 – 15 minutes or until tops are brown and an inserted toothpick comes out clean.
Place the donut pans on cooling rack and let the doughnuts cool in the pans.
Notes
If using a donut maker, fill the bottom portion until it is just full. Close the lid and cook for 7 minutes or until the donuts are brown. Remove the doughnuts and allow them to finish cooling on a cooling rack.
More Gluten-Free Doughnut Recipes:
Gluten-Free Mocha Fudge Doughnuts
Gluten-Free Chai Spiced Doughnuts
Gluten-Free Chocolate Mint Doughnuts
Gluten-Free Cookies and Cream Doughnuts