These free felt food sewing patterns are perfect for making unique and frugal play food!
Felt food is a great thing to have around for playtime. Not only is it soft and washable, it is easy to make and even toddlers can play with them. Felt food is not too expensive to make, either. You can pick up felt pieces for as little as a quarter each and since it is easy to make, it's a great project for beginning sewers. Felt food also comes in handy for homeschooling projects. Here are 15 free felt food sewing patterns to inspire you to create something "yummy" for your child to play with.
15 Free Felt Food Sewing Patterns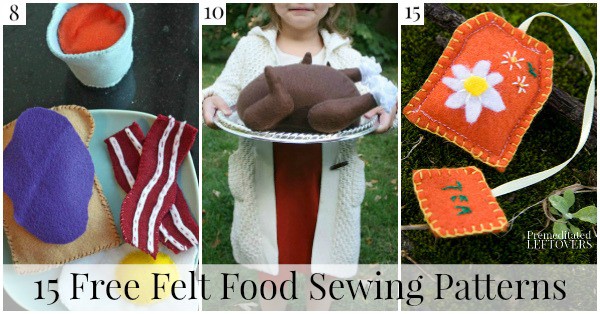 1. Here is a Felt Ice Cream Cones tutorial from One Creative Mommy. Think of all the ice cream "flavors" you could make!
2. Skip to my Lou made Felt Donuts to go with her lesson on the book, Arnie the Doughnut.
3. What felt food set is complete without some cheese for all the culinary creations? Here is a great Cheese Felt Food tutorial from Pieces by Polly. It even includes fun holey Swiss cheese!
4. Your kids can pretend to cut their produce with this Cut Apart Felt Carrot tutorial from American Felt and Craft.
5. These cute Felt Cupcakes from Cherie Spare Time are perfect for playing tea time. Just be sure to not add the bead if your child is under 3.
6. Check out One Creative Mommy's Felt Sandwiches! She includes both a turkey and cheese sandwich (complete with veggies!) and a PB & J one!
7. Make this Peel-able Cantaloupe from Field Notes from an Evolutionary Psychologist. It peels and sticks back together with the help of magnets.
8. Make Felt Breakfast Food with this tutorial from Life Sew Savory. The tutorial includes eggs, bacon, toast with jam, and a cup of orange juice.
9. I love these Hot Dogs from ikatbag. She even shows different toppings on them and they come on a bun!
10. Look at this awesome Felt Turkey from Charming Doodle! This is so crazy cool. Wouldn't this be a fun thing for your child to play with around the holidays?
11. Pretty much all kids love pizza! This DIY Felt Play Pizza from Life is Made is pretty great. Sew on the toppings of your choice.
12. These Felt Teabags from Dream a Little Dream are really great. I love to see people get this creative with felt food.
13. The whole Cherry Pie from American Felt and Craft will surely delight your children! It even comes apart for separate slices!
14. Hamburgers and French Fries are a kid's diet staple. Make this cute set of them with felt and the pattern from Craftiness is not Optional.
15. Since I included the felt turkey, I thought it was only fitting to include this Pumpkin Pie with Whipped Cream from Smashed Peas and Carrots as well.
I can't wait to get started on making some of these! Which one are you going to make?
More Free Patterns
10 Free Barbie Sewing Patterns
15 Free Crochet Patterns for Kids: Hats, Scarves, and Mittens