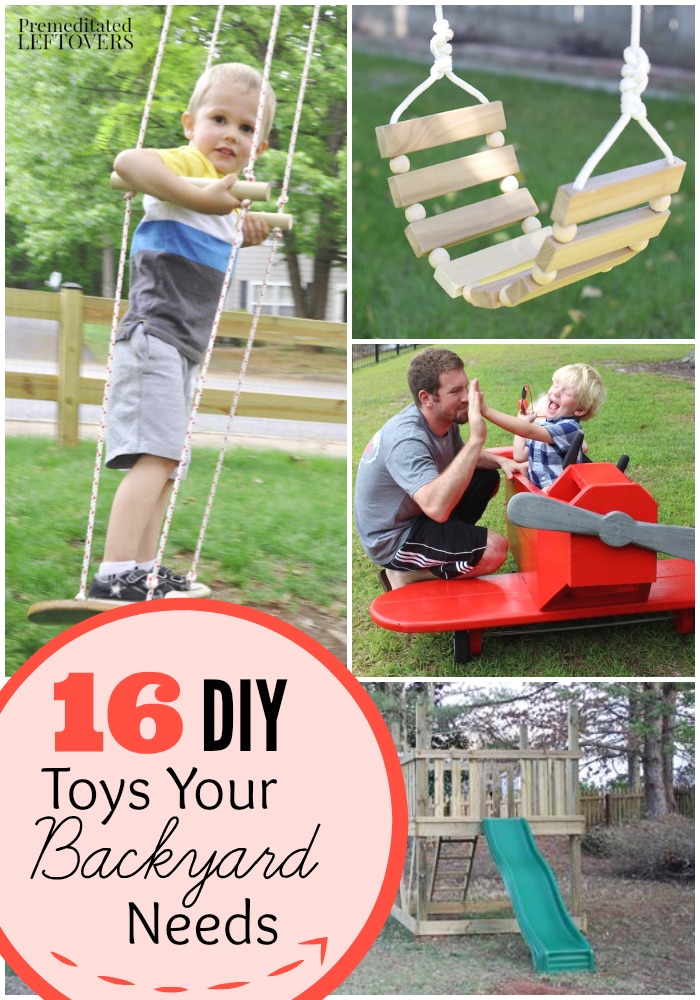 I was super happy that when I was a kid we had a swing set with an attached slide. This was so much fun in the summer. Well, other than the pain that it would cause as it was metal and the slide felt like it was as hot as an oven in the summer. I would have loved to have had a wooded play set, but since that was out of the question I had many hours of fun on my metal one. I even can still hear the squeak that the swing made as it went up and down.
If you are lucky enough to have your own spacious backyard and want to create something that will be a place where all of the kids in your neighborhood will want to play at, here are some great DIY Backyard Play Sets and Toys to make as the weather warms up.
DIY Backyard Play Sets and Toys
This Treehouse Play Structure from Wellness Mama is what I would like to refer to as the 'King of All Play Structures.' It is sturdy enough for many adults to be on at once, too!
If you have a great tree that needs a swing, check out this easy DIY Tree Swing for Kids and Adults on Momtastic.
You can Build Your Own Playground with many play parts with these instructions at View Along The Way.
Re-Purpose a Bike to Make Your Own Swing with these tips from Jonesing to Create. I love when people re-use items to make them new again.
This Airplane Play Structure from The Rogue Engineer is so cute and I bet so many kids would love this in their backyard!
Climbers will love this Tire Climbing Tower from Blessings Overflowing. It's sturdy enough for adults, too.
This Old House has instructions on How to Build a Kid-Sized Fort that is just awesome!
What kid wouldn't love this Skateboard Swing from Little Bit Funky? It's easy to build and only takes about 20 minutes from start to finish.
Ana White has plans for building a Sail Boat Sandbox that would be great for coastal backyards.
This DIY Kid's Seesaw from Classy Clutter can be made for under $30. Now, That's a perfect project for someone on a budget!
Adventure in a Box has a great DIY Outdoor Play Kitchen made from an old shelf that's perfect for messy water play.
If you plan on making something that will delight for years and have the time to do it, I suggest making this DIY Clubhouse Play Set from Her Tool Belt.
Hey There, Home has a neat project that will keep little artists occupied with this DIY Outdoor Chalkboard.
Grams has a nice set of instructions on how to make a Painted Tire Swing.
This Children's Arbor Bench from The Crafting Chicks is the perfect thing to put in your backyard for kids who are tired and need a break.
Make this Tire Teeter Totter from Sugar Bee Crafts for a great project for little ones to play on.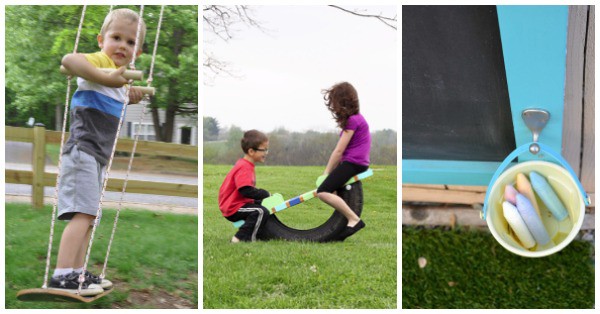 More DIY for Kid's Projects:
11 DIY Playroom Furniture Projects
11 DIY Kid's Furniture Projects