If you have a round candle holder and a little tissue paper, you have all of the makings for this easy upcycle project! Using these inexpensive and easy to come by supplies, you can make your own mosaic Earth globe in no time. This globe is perfect for using as a candle holder, celebrating the the arrival of spring, Earth Day, or even to enrich a lesson on Earth or the planets with your child or classroom. It is such a simple upcycle, yet one that can be used in so many ways. Take a look at how you can make your own.
Supplies needed:
Round glass candle holder
Blue and green tissue paper
Craft glue
If you want to do this easy upcycled Earth globe but don't have a candle holder, you can find one like this at both your local dollar store or local craft store.
Directions:
1. Begin by applying a layer of craft glue to the glass. Put it on thin and even.
2. Tear the tissue paper into squares (both the blue and the green) and begin applying it to the glue. Work quickly so the glue is nice and wet when you lay the tissue down.
3. Continue covering the entire vase with blue and green tissue. You will start to see the globe take shape with the blue being the water and green being the land.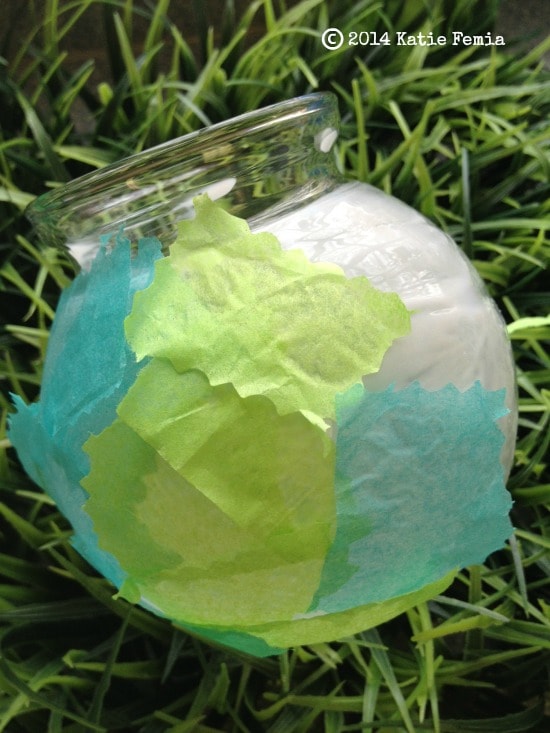 4. Once the glass is covered, take a little glue on your finger and spread it over the tissue paper. This will seal it, letting it lay nice and flat. Cover the entire globe this way. Don't worry if you see some white over your tissue paper as the glue will eventually dry clear.
Once dry, your globe is ready to display! As mentioned before, you can place a votive in it and watch it glow. Or, you can make it in celebration of spring's arrival or Earth Day. Either way, it is an easy upcycle that is perfect for getting you out of the winter funk.
Gather your supplies and give this Earth globe craft a try!
More Upcycled Craft Projects