It's March! I hope that means we're just that closer to Spring… than Summer. Living in the Michigan area, you can imagine my thrill of winter so far with snow storm after snow storm. Honestly, I could skip Spring and head right to summer. But.. before we do that, let's talk about how you're going to decorate for St. Patrick's Day!
I love changing up themes in my house every month to go along with each Holiday or season. This month it's all about the Green, fun beads, beer (if you drink), leprechauns and delicious inspired Irish Recipes. You can find several ideas to try, so start with this one: 15 St. Patrick's Day Recipes.
Food is covered. Check.
How will you decorate your themed inspired St. Patrick's Day Table? If you need some inspiration keep reading for my frugal St. Patrick's Day Table Decor ideas!
Frugal St Patrick's Day Table Decor Ideas
First, always look around your house, craft room, supply area, etc to see what you can reuse, recycle and renew.
Then if you have a Dollar Tree (or another cheap, craft inspired store) head out to see what decorations you can find. Lately, my Dollar Tree has been on point with holiday themed decorations.
I was able to find:
Green Beads
Funky green glasses
Little Leprechaun hats
Colored Straws (You can order a set here if you don't have time to go out shopping)
St. Patrick's Day Flags
Green flowers
Around my home I had:
White Plates (You can find a similar set on Amazon. My set was purchased from Ikea)
Green Flower Chargers ( I picked these up at Hobby Lobby around Spring time of last year So you should be able to find them. They are priced at $1.99 but wait until they go on sale for 50% off. )
Green plastic cups
Beer glasses ( I actually scored those at Kohls- they also go on sale for 50% off)
Right after Christmas I found the green and white table runners on clearance at Target for under $5 bucks (at 70% off). Amazon has a cute green & white Chevron runner you can check out.
White flowers
*Many Christmas items you that you can score right after Christmas for up to 90% off will work for MANY Holidays decor ideas throughout the year.
I stopped by Party City to grab Green Sixlets. But I found that they were cheaper to order via Amazon.
Green/Polka Dot Paper Chains can be found on Amazon.
Let's start by adding the table runners to the table. Instead of just adding one table runner in the middle of the table, I decided to add three table runners vertically across the table.
I then added the Green Flower Chargers. Adding the whites plates next. I finished each table place off with a St. Patrick's Day necklace draped across the plates and added a little leprechaun hat to the side.
You can make cute (those are not cute 😉 ) table name places with the St. Patrick's Foam Shapes. I just used a marker and added a name and the words Happy St. Patty's Day. But I am sure you can get a little creative with it. If you have time, you could also get your scrapbooking material out and add some accessories to make the table seating decor a little more "festive".
I fell in love with these CUTE little Leprechaun hats. They came 5 in a pack- again from the Dollar Tree.
If you plan to serve drinks and have a bar area, be sure to include that in your St. Patrick's Day Decorations.
I also picked the green flowers you see here at the Dollar Tree. You get 3 flowers for $1.00

I decided to keep that area very simple. I just added a green/St. Patrick's themed paper chains. You can just take some scrapbook paper, cut it into strips and tape or glue them into a chain. If you don't want to make them, then browse around your Party City store, Amazon or any craft store.) Actually Amazon has the EXACT one that is purchased above for just $3.99. So head here to order that~
If you have a Side Table or Buffet, be sure to include that area with some fun, festive St. Patrick's Day Decorations.
I put fun chocolate bars (left over from Halloween) and sixlets into clear small vases. I blew up some green & white balloons (Hobby Lobby).
I laid the St. Patrick's beads out, as well as adding the funky glasses. I also found St. Patrick's Day flags at the Dollar Tree and stuck them into a Mason Jar. A Sweets Buffet filled with candy and fun things they can do is a great way to keep your guests entertained while they wait for the food.
Then we put it all together and this is what we get….
A beautiful St. Patrick's Day Table Decor Theme for under $20 bucks ( I am not including the plates and things I already had at home as part of this budget). However if you needed to buy everything to pull of this look, it is possible to still do it for under the $50 dollar range. Just watch the sales and look for coupons. But be sure to check around your house first, especially if you have green related Christmas items that will work in this set.
You can also check out your local thrift stores to find cool, unique pieces.
If you have no plans to host a St. Patrick's Day party, this same look will work for a Spring Sunday Dinner and even Earth Day.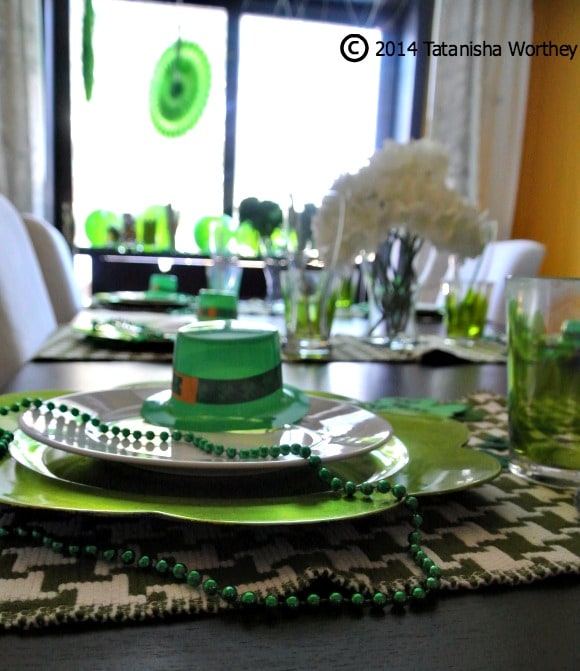 Now wasn't that easy? 🙂 It's amazing what you can do with Dollar Tree decorations, especially when you're on a budget. Decorating a table doesn't have to be expensive and I'm here to show you that you can still pull off a FAB look for less!
More St. Patrick's Day Recipes and Tips:
15 St. Patrick's Day Crafts for Kids
St. Patrick's Day Games for Kids
Free Printable St. Patrick's Prayer
How to Make Chenille Shamrocks from Pipe Cleaners
St. Patrick's Day Recipes from the Hearth and Soul Hop
Tatanisha plays a Super-Fun Mom to three active & handsome boys. A Foodie at heart and Wife to an awesome Chef. You can find her designing new and frugal ideas at Table Decor Ideas.