This  wonderfully scented homemade Lavender Rosemary shampoo with essential oils is a great way to skip all the added ingredients that you may want to avoid in commercially made beauty products. This recipe is made up of 4 simple ingredients, each chosen for the natural benefit they bring to your hair and scalp. Rosemary leaves your hair soft and shiny, and is also great for dry scalp and dandruff. Lavender is wonderful for dry scalp and stimulates hair growth. Castile soap, when diluted properly, is a great ingredient for cleaning your hair. While it is a much lower sudsing ingredient than you are used to, believe it or not, that is a good thing, because sulfates strip your hair of natural oils and dry out your follicles. In addition, washing your hair everyday strips it of its natural oils, unless we get dirty or sweaty we only wash our hair about 3 times a week and just rinse the other days.
Homemade Lavender Rosemary Shampoo
Ingredients: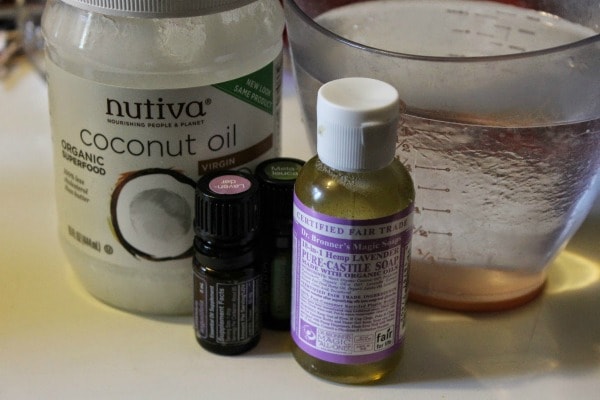 Directions:
Melt coconut oil in a microwave safe dish. It should only take about 20-30 seconds to become fully liquefied.
Combine water, coconut oil , castile soap, and essential oils in a pint mason jar and shake vigorously to combine.
Pour into a plastic container to store and use. An empty shampoo bottle is a great container or you can pick up a new pump or squeeze bottle from the craft store.
How to use homemade shampoo:
Squirt a quarter sized amount of shampoo into the palm of your hand
Rub hands together to create lather.
Massage shampoo through hair, beginning at the roots.
Rinse hair well with water as cold as you can tolerate; the cold water will seal your ends and provide a greater shine.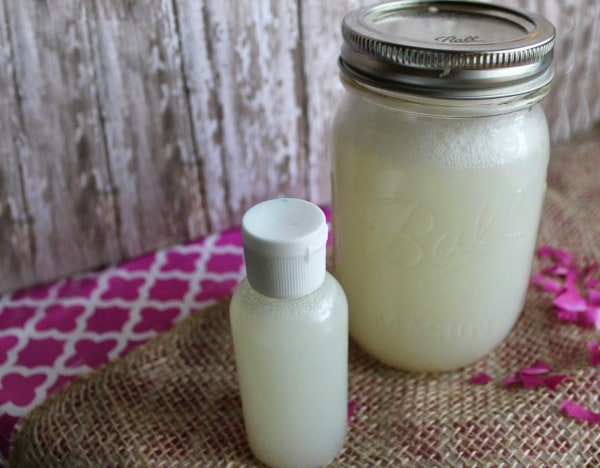 More Homemade Hair and Body Products
How to Make Your Own Hair Products
How to Make Your Own Body Lotion
How to Make Your Own Body Wash