Natural hair treatments are great for your hair, but they can be pricey. Here are 5 natural hair treatments you can make at home.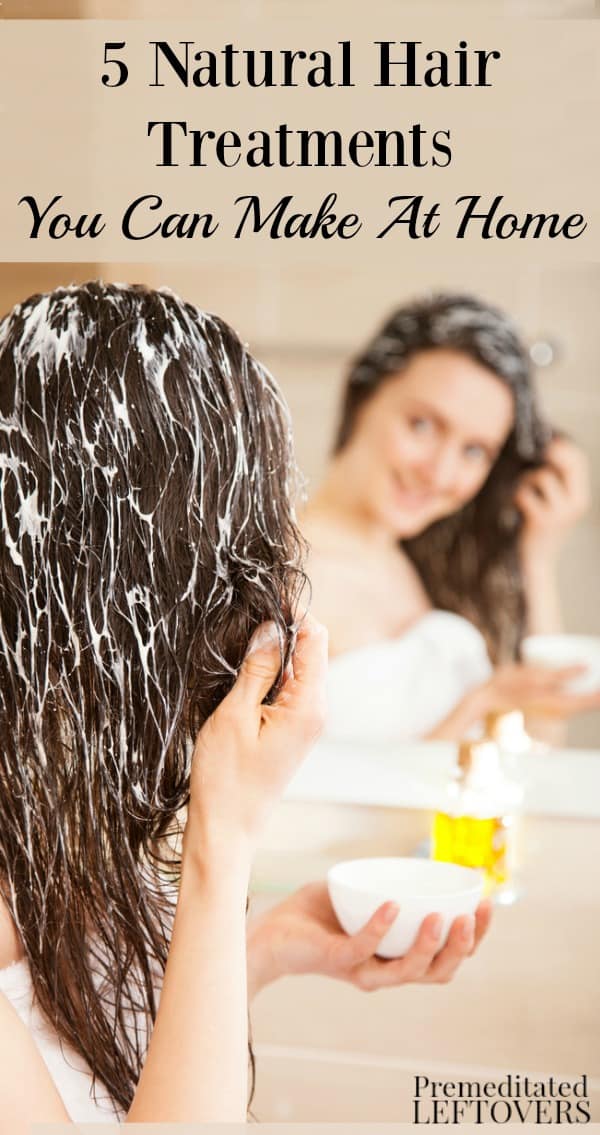 Other than facial products, people spend a lot of money on hair care. The hope is that the product lives up to its claims and gives you silky, soft and shiny hair.
First and foremost before you try these concoctions, make sure you are eating a healthy diet. It may surprise you, but a healthy diet rich in fish oils, olive oils and plenty of water is one of the best things you can do for your hair. Adding collagen to your to your morning cup of coffee will also help your hair.
Let's check out some natural hair treatments you can make at home for a variety of issues.
5 Natural Hair Treatments You Can Make At Home
You will find that some of these recipes call for an infusion. An infusion is simple herbs that have been prepared like a tea. Just use 1 tablespoon per cup of hot water for the formula. Make sure you use fresh herbs, not the dry kind and cover while it is steeping.
Egg Conditioning Shampoo Recipe
1 egg, beaten
½ teaspoon unflavored, powdered gelatin
2 tablespoons infusion of parsley
1 tablespoon infusion of rose
4 ½ tablespoons tear-free baby shampoo
Mix well and use immediately. Toss leftovers.
Avocado Deep Conditioner Recipe
1 very ripe avocado, mashed
4 tablespoon olive oil
warm towel
In a food processor or with an immersion blender, make a smooth puree out of the avocado. Slowly add the oil. Spread evenly through your hair and cover with a warm towel. Leave on for 20 minutes and rinse out with warm water.
Split End Repair Recipe
3 tablespoons honey
¾ cup olive oil
1 tablespoon infusion of rose
Mix well and apply to hair. Leave on for 30 minutes and rinse out with warm water.
Natural Hair Spray Recipe
1 lemon
1 ½ cup rosemary infusion
2 ½ tablespoons vodka
Cut the lemon into pieces and place in the infusion to boil. Cover and simmer for 20 minutes. Strain the liquid and cool completely. Add to a clean and sterilized spray bottle and add the vodka. Use within a month or so for best results.
Oily Hair and Scalp Treatment Recipe
1 tablespoon fresh rosemary
2/3 cup water
1 lemon
3 egg whites
3 tablespoons light rum
Bring water and herbs to a boil and simmer 20 minutes. Strain and cool completely. Add the rum and squeeze the lemon in. Beat in the egg whites. Apply to your hair after washing. Wrap up in a warm towel for 30 minutes and rinse with warm water. Make sure you remove all the mixture.
More Homemade Hair Treatments
DIY Rosemary Mint Hair Conditioner
DIY Hot Oil Treatment for Hair
Lavender and Rosemary Detangling Spray
How to Make Homemade Lavender Rosemary Shampoo
More DIY Beauty Recipes: