Have you wanted to learn to make your own hair conditioner to deep condition your hair? Use this DIY Rosemary Mint Hair Conditioner Tutorial. You will learn how to make a natural hair conditioner and what ingredients to use to moisturize dry hair with this homemade hair conditioner recipe.
I have been turning more and more to my essential oils and natural ingredients for home and body products. I felt a need to reduce the chemicals we use in our home as much as I possibly can. Making your own gives you the flexibility of customizing scents, avoiding irritants, and using only the best ingredients. I use this Homemade Rosemary Mint Hair Conditioner once a week to moisturize my hair, giving it a good treatment. As I have gotten older I have noticed that my hair has dried out significantly and occasional deep conditioning treatments help restore the moisture and shine.
How to Make a Natural Homemade Hair Conditioner
I chose each ingredient for it's amazing benefits for hair. Here is what each one does:
Shea Butter – Moisturizing, natural conditioner, seals hair follicles, and soothes irritated skin on scalp.
Coconut oil – Relieves dandruff, encourages hair growth, and conditions hair.
Argan oil– Softens, adds shine, tames frizz, and protects against heat.
Rosemary Essential Oil– Aromatherapy, adds shine, and encourages growth.
Peppermint Essential Oil– Aromatherapy, promotes hair growth, and relieves dandruff.
Rosemary Mint Hair Conditioner Recipe
Ingredients:
Directions:
1. Place Shea butter and coconut oil in a microwave safe container and heat in 30 second increments until completely liquid.
2. Allow to cool then stir in essential oils and Argan oil.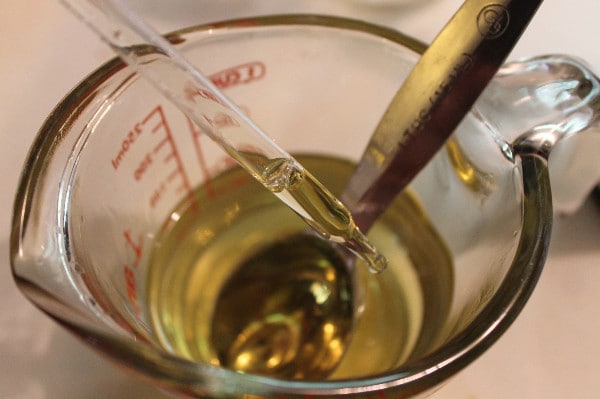 3. Transfer mixture to a container with a tight fitting lid, preferably some sort of squeeze bottle or pump. I recycled a castille soap container for mine.
How to Use Homemade Hair Conditioner

Before shampooing, work conditioner into the ends of your hair. Slow work your way up to the roots. Allow it to sit on your hair for 5 minutes. Then rinse the conditioner out of your hair. Wash hair with shampoo to remove excess oils.
More Homemade Hair Products
DIY Hot Oil Treatment for Hair
Lavender and Rosemary Detangling Spray
How to Make Homemade Lavender Rosemary Shampoo