I used the same makeup remover pads with face wash for years. Until time caught up with me and I realized two things. First, the same thing that made my face feel healthy and shiny as a teenager was not going to have the effect on a thirty-something face. And second, sometimes stubborn makeup like waterproof mascara needs a special makeup remover separate from my cleanser.
My essential oils have become my daily go to, whether it's for cleaning the counters or cleaning my face. I love that they are safe enough for both! DIY beauty products are easy to make, cost less than their store bought counterparts (after the initial investment in some basic items), and are much safer for your skin.
How to Make Makeup Remover Pads
Items needed:
1/4 cup hot water
1 Tbsp. coconut oil
1 tsp. witch hazel
1 Tbsp. unscented Castile soap
5 drops lavender essential oil
5 drops frankincense essential oil
Round cotton pads
Squat jar with wide opening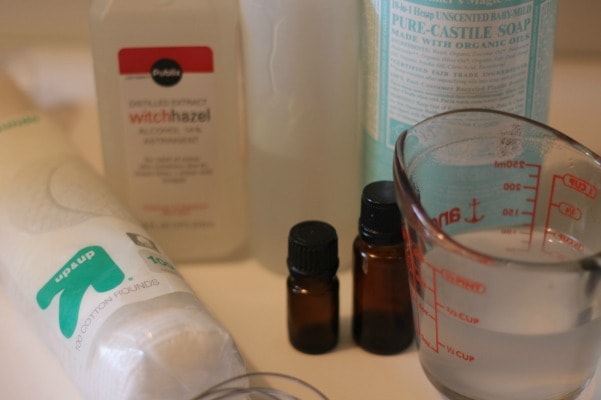 Directions:
Fill jar with a stack of round cotton pads.
Whisk together the water, witch hazel, castille soap, lavender essential oil, and frankincense essential oils until well mixed.
Pour over pads to cover, you will be able to press down and add more pads as they absorb the liquid.
To use the homemade makeup remover pads:
Remove pad from solution, wring slightly to remove excess liquid.
Gently swipe makeup from eyes in an upward motion. Gently wipe the makeup from the rest of your face with a makeup remover pad
Follow up by cleaning your face as you normally would with a cleanser. Then apply a face cream or lotion.
More Homemade Beauty Products
How to Make Your Own Hair Products
How to Make Your Own Body Lotion
How to Make Your Own Body Wash