Have you resolved to be healthier in the New Year? Cleaner? More Organized? You can knock out all three resolutions at once by making a batch of this natural yoga mat cleaning spray recipe before you hit the yoga studio this year.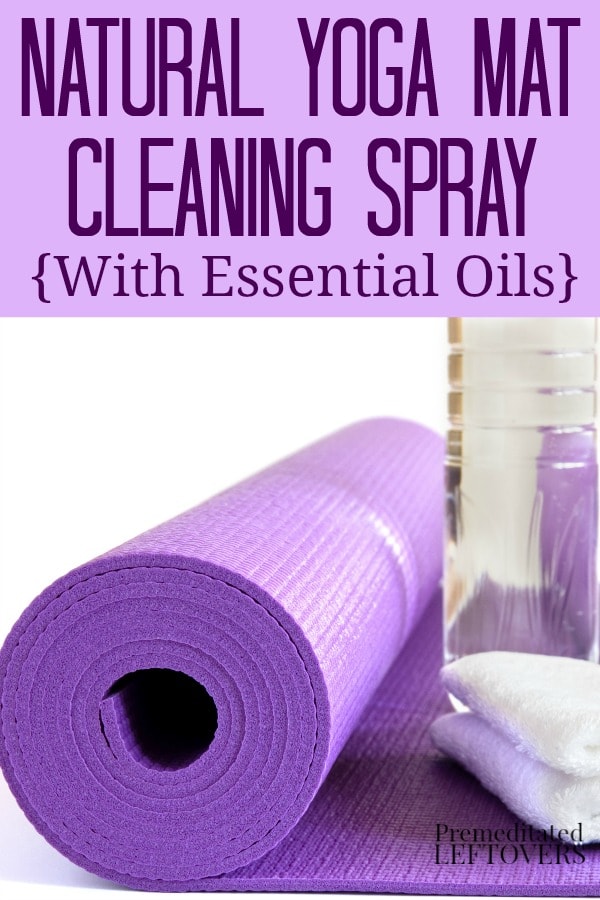 Many yoga mats say to clean them by wiping them down with a wet cloth. I think whoever wrote those directions has not heard of power yoga, hot yoga, or Pilates. Cleaning my yoga mat with plain water is just not going to cut the sweat.
Making your own yoga mat cleaner is not only natural but also quite frugal. There is a good chance you already have the basic ingredients in your cupboard. I like to make my essential oil yoga mat cleaner with witch hazel because it has anti-microbial properties, but has a milder smell than vinegar. However, if you do not have witch hazel on hand, feel free to substitute vinegar. Once your mat is clean and dry you won't be able to smell the vinegar.
If you have essential oils on hand, you can use some to add a scent to your cleaner. I like the revitalizing scent of citrus so I add Sweet Orange Oil, but you can use lavender oil or eucalyptus oil instead. I also add Tea Tree Oil because it has anti-microbial properties. You can choose to leave the essential oils if you wish.

Natural Yoga Mat Cleaning Spray Recipe
Supply List:
Directions:
Add witch hazel (or white vinegar), water, and essential oils to a medium spray bottle.
Place the nozzle on the bottle and shake vigorously to combine.
How to Use Your Yoga Mat Spray Cleaner to Clean Your Yoga Mat:
1. Lay your yoga mat out flat. Shake your spray bottle vigorously to thoroughly mix the ingredients, then spray your yoga mat cleaner over the surface of your mat.
2. Wipe the yoga mat with a damp washcloth. After the yoga mat cleaning spray has been thoroughly removed from the mat, use a soft dry cloth to remove the excess water.
3. Repeat on the other side.
4. Allow your yoga mat to air dry.
5. Then roll your yoga mat up and store it until you are ready to take it to your next yoga class.
Do you like using household items to create natural cleaners? You can find 30 more ways to use witch hazel and 20 more uses for tea tree oil for more tips.
More Homemade Cleaners: