Some money saving tips stand the test of time and are as useful today as when people first started doing them, even though expenses and economies change over time. These are some tips that will take you back to basics that will help you save more money and spend less.
Old-Fashioned Money Saving Tips
Save money on your electrical bill. When we were kids, our parents probably harped on us to shut off lights when we were not in the room. We didn't think it was such a big deal then, but this really is an old fashioned tip and can make a big deal when it comes to saving money on your bill. During the day, use natural light. You probably won't need to flick on any switches during the day if you open blinds and use the light that comes from inside. This will cut your usage in half.
Eat at home and skip eating out for convenience. Make freezer meals you can make in no time to avoid the temptation to eat out on busy nights and days when you are just too tired to cook. For lunch, especially if you work away from home, brown bag it. You can save hundreds of dollars a month by simply bringing leftovers from home and not eating out for $5-$10 a day when lunch rolls around.
Learn how to fix things for yourself before calling in the professionals. Many clogs and leaks can be fixed at home for a fraction of the price and they don't require any special skills or tools. I once fixed a toilet that had an annoying run by simply looking up how to do it on YouTube. The piece to fix it cost me less than $2 and it took less than 15 minutes to fix. Calling a plumber would have cost way more than that for the same work.
Avoid taking on debt. In times past, people didn't have the option to take on as much debt. Before you take on any new debt, really take an honest look at it and then decide if it is something you absolutely need or if you can find another way to fix the issue without taking on more debt.
Buy the least expensive option. This is most important when it comes to things that don't really matter like name brand over generic. In most cases, you can make things at home such as cleaning supplies. Don't be fooled into thinking you have to have the newest products. If what you are doing is working, there is no need to change your routine.
Snack on the cheap. In days past, people didn't have boxed convenience snacks. They just snacked on what they could afford and make at home. Popcorn in an excellent low cost snack that can be easily made at home with an inexpensive air popper and you can even buy the kernels in bulk at some stores for a very low cost snack. Doing it this way, an entire bowl of popcorn could cost you as low as 10 cents.
Pay for most things with cash. Credit cards have not always been around. Generally speaking, unless you are making a purchase online, you can pay cash everywhere. It is a good way to keep an eye on what you are spending and budget better.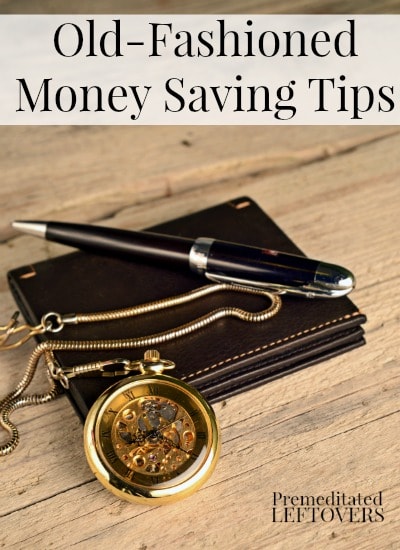 What are some old-fashioned ways you save money? I would love to hear all about them in the comments!
More Money Saving Tips