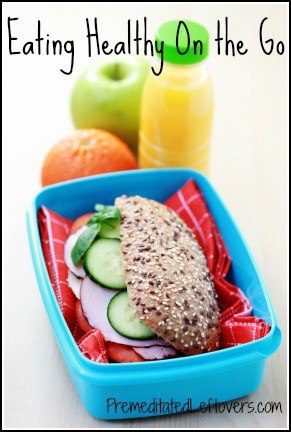 As the New Year approaches, so does the inevitable New Year's resolution to eat healthier and lose weight. Why not get a jump start on your resolutions and start making some changes today? Changing what you eat at work or on-the-go can have a big impact on your health and weight loss goals. We've all seen the candy dishes and donuts in the break room or have been tempted by the fast food restaurants on almost every corner. These simple tips and tricks will help you pack healthy and easy lunches and snacks for your on-the-go lifestyle. If you take just a few minutes at the end of the day to prep your meal and snacks for the following day, you'll be in control of your food, and your health.
Recommended Supplies for Eating Healthy on the Go:

A Dual Compartment Lunch Cooler ( such as the Igloo Playmate )
Various Size Ziploc bags
Reusable Ice Packs
Various size plastic containers
Beverage Container (like the BlenderBottle)for both water and adding drink mixes or protein powders
Optional: Things like Fit & Fresh containers where they have a removable ice pack that snaps into the lid
The night before, gather all of your supplies and prep and pack your lunch and snacks for the next day. That way, no matter how late you might be running, you just have to grab your lunch bag, throw in an ice pack, and run. If you are packing things that don't hold up well in the fridge (bananas, protein bars, etc.) put them in your briefcase/work bag/backpack etc. while you are packing your lunch.
Things To Pack
Cucumbers
Carrots
Bell Peppers
Snap Pea Pods
Broccoli florets
Salad Greens
Orange Wedges
Apples
Grapes
Clementines
Cut up melon
Peanut Butter
Lean Lunch Meats (Turkey, Chicken, Ham)
Rotisserie Chicken
Whole Wheat tortilla/sandwich thins
String cheese
Yogurt
Protein bars
Mixed nuts/trail mix
Canned light tuna
Oatmeal
Tea
Frozen Low Cal Meals if you'll have access to a microwave
Tips for Eating Healthy on the Go:

Here are a few tips to help further your success in changing your eating habits on-the-go.
Buy cantaloupe, watermelon or honey melon and cut in to bite size pieces and store in an airtight container in the fridge. It should stay fresh and give you several servings for weekday lunches and snacks. To really save time, divide it in to individual airtight containers for the week that way it's just grab and go!
Did you chop a few too many of your veggies? Don't worry. Store them in the fridge and use them in a salad later in the week. In fact, when you are chopping your veggies to eat on their own one day, dice a few in to smaller pieces to use another day in a salad.
Do you have a sweet tooth? Buy the fun size bags of candy. Take one or two treats with you for dessert and indulge your sweet tooth without breaking the calorie bank. Eating healthy is about enjoying even the not so healthy stuff in moderation. Not worth the risk of having it in the house? Look for indulgent light yogurts like White Chocolate Raspberry or Orange Crème as replacements or protein bars that have dark chocolate in them.
Portion out dry good snacks like trail mix, pretzels, goldfish, etc. Invest in a kitchen scale to measure out portions and place in Ziploc bags. Then put all of the Ziploc bags into a basket or bin in the pantry so you just have to grab and go. This is perfect if you have young kids in the house too. No more cleaning up spilled gold fish on the floor!
While eating healthy does take effort, it's a small price to pay for the reward of a long and healthy life. Just a few extra minutes out of the day to prepare for the next can make a huge impact in your weight loss goals. Here's to a healthy, happy and fabulous new you!
Alicia can be found on her blog Moms Don't Say That where she share recipes, tips, and musings from her life.