With the holidays behind us, most of us are busy taking down the Christmas Tree and other holiday decor. This can leave the house looking a little bare and let's face it, there is more than a little time before spring and the fun decor that comes with it. There are lots of great decorations that are beautiful all winter like ice skates, snowflakes, and this beautiful Upcycled Sweater Vase!
Upcycled Sweater Vase
Supplies:
Clear glass cylinder
1 old sweater (only the sleeve is used)
Glue gun and hot glue
Felt flowers or other embellishments
Ribbon (I used a burlap ribbon)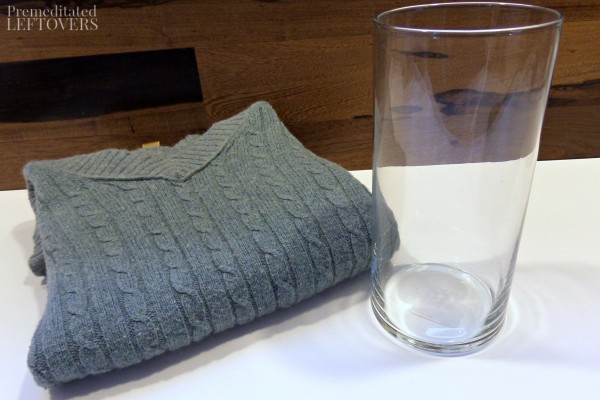 Instructions:
Begin by measuring your glass cylinder and cutting the sweater sleeve to the appropriate length to cover the cylinder. You will need to add approximately 1″ for securing the sweater to the bottom of the vase. I wanted to fold over the cuff of the sweater as well so I allowed enough length for that too.
Slip the sweater sleeve over the cylinder. Fold the cuff down and adjust the sleeve so the folded cuff is even with the top of the vase. Secure with a little bit of hot glue to keep it from slipping.
Turn the vase upside down and carefully secure the extra length of sweater to the bottom of the vase using the hot glue.
Turn the vase upright and begin decorating with your embellishments.
I wrapped a 1″ wide burlap ribbon around the vase where the sweater cuff is turned over and knotted it, securing it with a dab of glue. I also added felt flowers for extra detail. If you've never made felt flowers, this is a great felt flower tutorial found on This Mama Loves.
Once your embellishments have been added fill the vase with winter greens, flowers, or painted twigs like I did! It's a beautiful piece that will look wonderful all winter long.
Do you have any fun projects planned for upcycling unused items into new?
More Ways to Upcycle Sweaters