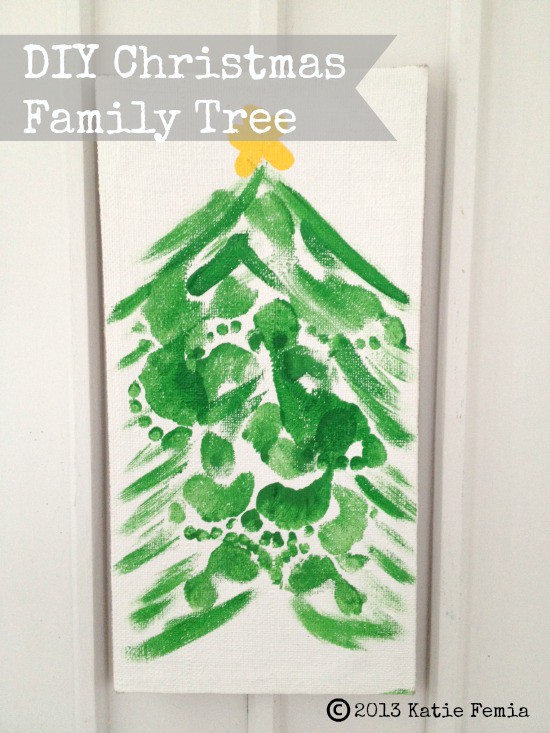 If you are looking for an easy and inexpensive way to make lasting memories with your family, look no further than this family foot print tree. Perfect for whipping up during the holiday season, this family footprint tree uses just a few inexpensive materials and creates a lasting memory that hangs right on your wall. Fun to make, this craft would make a great gift for parents and even grandparents. Take a look below at how to make your own!
Family Footprint Tree
Supplies needed:
Canvas
Craft paint
Paintbrush
Plate
We were able to find a nice sized canvas at our local Hobby Lobby store for around $10.00. We used the 40% off mobile coupon making our total just $6.00. For our paint colors, we used green and yellow to create a Christmas tree, however you could use any colors you wish to create a tree of your liking.
Directions:
1. Begin by putting some paint on a plate. Have your child or children either dip their foot into the paint or brush it on for them. For more sensitive children, allowing them to dip their feet may be easier than the feeling of a brush tickling them.
2. Guide their foot to the canvas, creating a set of prints directly in the center. This is the print you will start building your tree from.
3. Start making additional prints working your way outwards. For our sample print, each child took turns making prints with their feet until the center of the tree was nicely filled in.
4. Take your brush and add additional branches to fill the tree out and shape it.
5. Using thumb prints you can now decorate your tree. You can add ornaments, apples, lights, or a star as we did. Just dip your thumb in a contrasting paint color and press it to the canvas.
Allow your canvas to dry thoroughly and it will be all ready to display! This family footprint tree is a beautiful example of family art that allows everyone to get involved in the creative process. Give it a try this holiday season and create something truly memorable!
More Family Christmas and Winter Activities: