These New Year's Eve activities for kids are easy to pull together for your party.
New Year's Eve is a special time for all kids and each of them has their own perspectives about what it means. For some, it is a new beginning. For others, it is a chance to reflect and learn. Their parents will help them to enjoy both perspectives and grow as a person. Here are 5 New Year's Eve Activities for Kids that can help to cultivate those traditions and values while still having tons of fun.
5 New Year's Eve Activities for Kids
Resolution Videos
With the proliferation of video cameras, smartphones, and other media, most families have some type of recording device to make memories. Sit your kids down for a recording session every single New Year's Eve and have them state what their resolutions are for the coming year. Encourage them to really think about it and try to improve over the previous year. The footage will be priceless and the kids love the camera.
New Year's Sock Hop
Call it a sock hop, dance, or plain old slumber party, but make it a tradition! Be the mom (or share duties with other moms) that throws a sock hop every single New Year's Eve. Counting down with a group of friends will encourage warm feelings about the holiday and show kids that fun can be had right at home.
Annual Time Capsules
Sit your kids down at the table with a stack of index cards and have them write down ten cards each. Each card should be a specific memory that was important to them throughout that calendar year. Put all those into a "capsule" of some type and store it away safely. Years from now those memories will be priceless. Here are more ideas for creating a time capsule.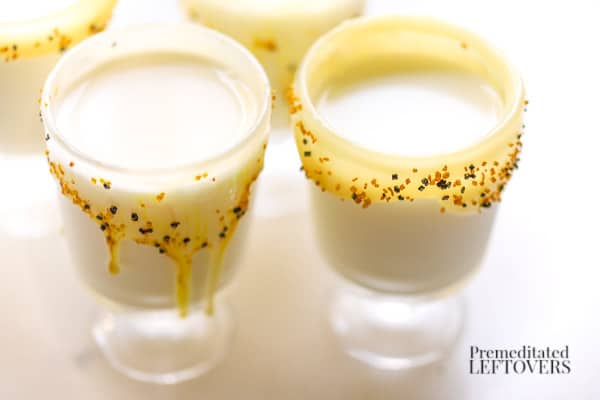 Milk Toasting Tradition
No champagne here! Kids love toasting alongside their parents and milk is the ultimate choice. Not only will it give them nutrients that they need, but it will also provide them with a warm belly to go to sleep on afterward. Mom always let us stay up for the ball and a nice glass of warm milk at the strike of twelve. Here is how to make Milk Toast Glasses.
Charitable Resolution Contracts
Giving our children a civic-minded personality is the best gift we can give them. Have them sit down and commit to two causes throughout the coming year. Write up an "official" contract and explain that it is binding. Give them a civic award every new year for the work done the previous year. This can be done every year and keep them thinking of others all the year round.
Make Silver and Gold Glitter Slime
Slime is a popular activity for kids. Let kids make this New Year's Sparkle Slime recipe and it will keep them busy for a large part of the evening as they wait for midnight.
New Year's Eve is a special time for everyone and should be enjoyed by the kids as well. These special traditions can help give them something to look forward to and to understand why we need to help our fellow man.
More New Year's Activities
How to Make a New Year's Eve Time Capsule
Frugal New Year's Eve Celebration Ideas
New Year's Day Tradition: Hoppin' John