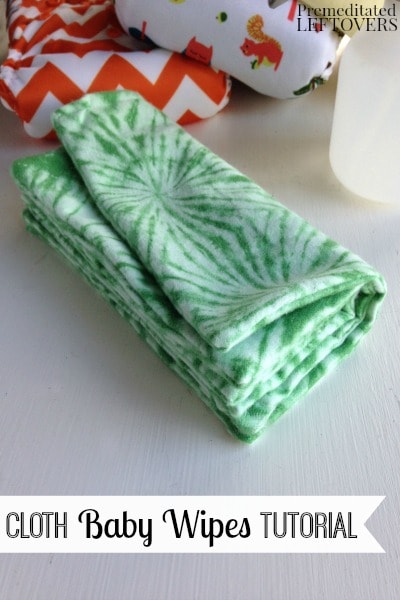 Cloth wipes are a great accessory to cloth diapers and have a lot of the same benefits. They're very cost effective compared to disposable wipes and tend to be more durable. You aren't throwing anything away, so they are an economical and environmentally conscious choice as well. Once dirty they can be tossed in the wash right along with your cloth diapers. Cloth wipes also allow you to purchase or make your own wipe solution that fits your baby's needs.
Cloth diaper retailers sell sets of baby wipes in soft fabrics like cotton, velour, and flannel. You can also save money by making them yourself with this easy to follow Cloth Baby Wipes Tutorial. These are quick and inexpensive to make with a couple yards of flannel or an old flannel sheet set. Keep an eye out for discounted fabric remnants or sales to cut costs even further. With a yard and a half of flannel on sale for $2.59, I was easily able to make a dozen cloth wipes for under $4.
These double layer wipes will require you to use a sewing machine. You will only need to sew a simple straight or zigzag stitch, so this is a great project for beginners. If you aren't a stranger to a sewing machine, you'll have this project done before nap time is even over!
Homemade Cloth Baby Wipes Tutorial
Materials needed:
A yard or more of flannel, pre-washed
Sewing machine
Scissors or rotary cutter
Measuring grid, ruler, or soft tape measure
Instructions:
1. Begin by measuring out and cutting 8"x8" pieces of your flannel.
2. Place two pieces of fabric so that the right sides are facing.
3. Stitch three sides closed, leaving the fourth open. I recommend a ¼" seam.
4. Turn the wipe right side out and gently push the corners of the wipe out with your finger.
5. Tuck the edges of the open side in and sew the fourth side closed.
6. Iron your wipes flat for a clean finished look.
More Natural Baby Articles
How to Make Cloth Baby Wipe Solution
How to Lanolize Wool Diaper Covers
How to Make Wool Baby Pants from an Old Sweater
How to Make Reusable Cloth Baby Wipes