Learn How to Make Your Own Quicksand with this easy tutorial. It's a fun and educational activity for kids as they set toys on the sand and watch them sink.
I remember as a kid watching cartoons and inevitably, there would be quicksand in some scenes. Whether it was Scooby Doo or the Roadrunner, quicksand was always added in for comedic appeal. The idea of quicksand is kind of a scary one, but it can also be a fascinating one. Learn How to Make Your Own Quicksand so you can use it in a number of ways. Young children will love it for a fun play activity or this would be great way to help them practice the letter Q when learning the alphabet.
Older kids will probably appreciate using this as a science lesson in density or to find out about real quicksand and have it demonstrated for them. Either way you choose to use, this homemade quicksand tutorial is super easy and frugal. Kids will love sinking their hands into it.
Homemade Quicksand Tutorial
Materials Needed:
1-1/4 cup cornstarch
3/4 cup water
1/2 cup sand (We used playground sand. It comes in bags and was already in our sandbox.)
small plastic toys
Directions:
1. Place cornstarch in a large bowl.
2. Add water and stir well.
3. Mixture will be hard to stir but will eventually become smooth.
5. Place small toys into the mixture and watch them slowly sink.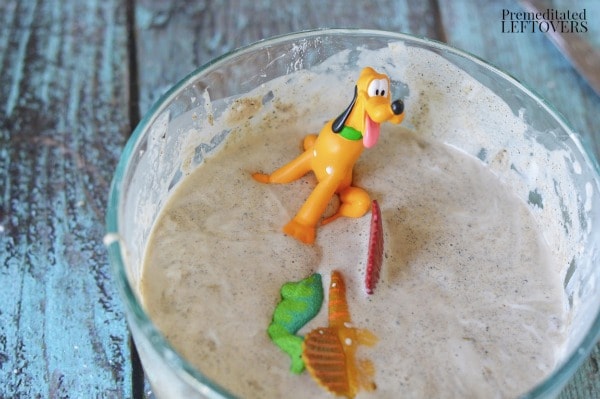 6. When finished, just throw away.
Tip: If you don't like the mess, have a disposable plastic table cloth on your space and keep a wet and dry hand towel close to catch spills and wipe hands. You could also make the quicksand outside. My daughter had a hard time with this because she couldn't keep her hands out of it! She loved it!
More Fun and Educational Activities for Kids:
Jelly Bean Counting and Sorting Activity
Ice Cube Discovery Activity for Kids
Letter G Project: Growing Grass with Kids