Kids can learn about the letter S with this fun Letter S Activity: Sunshine Shadows Tracing. It's an easy and educational activity to set up and enjoy on a sunny day!
For some reason, shadows never scared me as a kid. I was always excited to see what kind of shadow an object would cast. I would do shadow plays with my own imagination and my own body, telling a story out loud to myself while moving into different positions. I loved using chalk to trace my shadow on the ground, too. Playing with shadows can lead to quite an adventure when you are a kid with a big imagination! This Letter S Activity: Sunshine Shadows Tracing is a good one for kids to do just that!
While this is a fun activity for little kids to learn about the letter 'S', older kids might enjoy this activity to solve simple math problems like space and area. This would also be a good one for science minded older kids who want to make predictions and watch the shadow change in side and length throughout a day. This activity only requires a few things you probably already have so let's get started!
Letter S Activity for Kids: Sunshine Shadows Tracing
Materials Needed:
1 large sheet of paper
2×4 piece of wood or something similar
poster putty
pencil
table outside
sunshine
small items that start with the letter S (Sheep, Shark, Saw, Square, Star, Shoe, etc.)
Directions:
1. Place your paper on the table. If there is a breeze, make sure to affix it with the poster putty.
2. Place your wood on one end of the table.
3. Use poster putty to affix items to the wood if necessary.We had to attach the saw and the shark.
4. When the sun is right (usually morning or evening sun, depending on your region) use a pencil to draw the shadows onto the paper.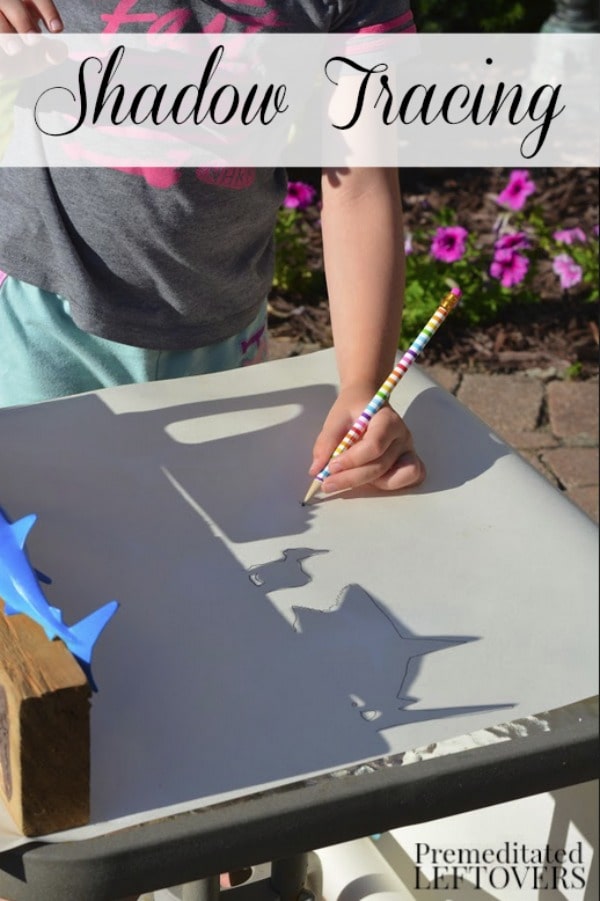 More Educational Activities for Kids:
10 Ways to Introduce the Letter S
String Letters & An Alphabet Craft with Game Ideas for Kids
Letter G Project: Growing Grass with Kids
10 Educational Sidewalk Chalk Activities
Ice Cube Discovery Activity for Kids