Sometimes the rain ruins even the best laid plans, but sometimes the rain can turn your plans into something even better. Such is the case of our living room camp out. We went outside with a sheet and some poles to make a temporary tent fort and five minutes later out of nowhere dark clouds roll in and fat raindrops come down. So we ran inside and I sat looking at a dejected little boy who wanted desperately to make a fort. So not wanting to look at that sad little face, and needing to knock it off our bucket list- I suggested an indoor fort. We drug chairs from the kitchen, sheets from the linen closet ( please excuse the wrinkles, I am more of a roll and stuff kinda' lady instead of a fold neatly type), pillows and throws from the couch, blankets pillows and "Wild animals" ie. stuffed animals from the bedroom- then we got to work.
Doesn't it look comfy and inviting?
Making a fort is simple and can be done in so many different ways with whatever you have on hand, it doesn't need to be complicated but it will be fun! Especially if you want crawl in and read, whisper, or giggle with your little one. Rule number one- make it comfy, blankets, pillows, throws, stuffed friends. Tie sheets to chair backs, barstools, table legs.. whatever you have to secure your "roof", then go crazy draping throws to make doors, and enclose it as much as possible- it makes it so much more cozy. Pile up pillows and soft blankets for lounging, reading, or napping. Next I added a string of clear Christmas lights to help with the reading, and it just sets such a fun mood ( these should be used with careful supervision. Set the Mood- Making it feel campy wasn't too difficult since my son's room is already decorated this way, even though we have never been camping outdoors he is obsessed with camping and fishing. This includes gear like these binoculars and canteen– these go everywhere he goes, inside and out. He wants to be a Zoologist like the Wild Kratt Brothers, I am all for fueling that kind of passion.
I just grabbed stuffed animals like moose, ducks, bears, and armadillo ( yes my son has stuffed armadillo, he loves unusual animals). and spread them around our camp for a woodsy feel.
Every camp needs a campfire so I balled up another string of lights, wrapped red, orange, and yellow tissue around them and stuffed it down into a large jar – again with close supervision.
Provide your happy campers with a basket of books, games, and toys. Eventually he ended up curled up with my iPad inside watching a movie on Netflix, but this was after hours of happy, imagination fueled play so it was okay.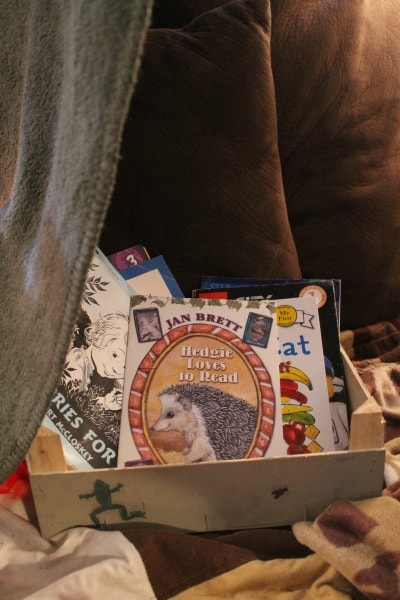 Serve food with a woodsy/fishing/ campy vibe-Popcorn, goldfish, gummy worms, hot dogs , S'more's- or if you want the flavor without the time and the mess do what I did, toss some chocolate chips, mini marshmallows, and broken graham crackers in a bowl and call it S'more trail mix- instant awesomeness. Pack a little lunchbox with goodies and picnic on the floor with your little one in the shelter of your tent. Lemonade or hot chocolate make a great beverage for your camp in.
Have you tried camping indoors with your kid's? Sometimes it even turns into an all-nighter (where mommy sneaks off to bed, I am just too old to sleep on the floor haha) The next rainy day that rolls around try setting up a camp in your living room and see what kind of play their imagination will spark. Most importantly get down and play with them. Tell stories around your campfire, sing songs, cuddle, and play games. Make this summer awesome, rain or no rain.
More Indoor Activities for Kids
5 Fun Indoor Activities for Kids
How to Make Lemon and Basil Playdough
You can find more ideas for frugal summer fun for kids here as we share a new frugal summer activity for kids each day for 100 days!