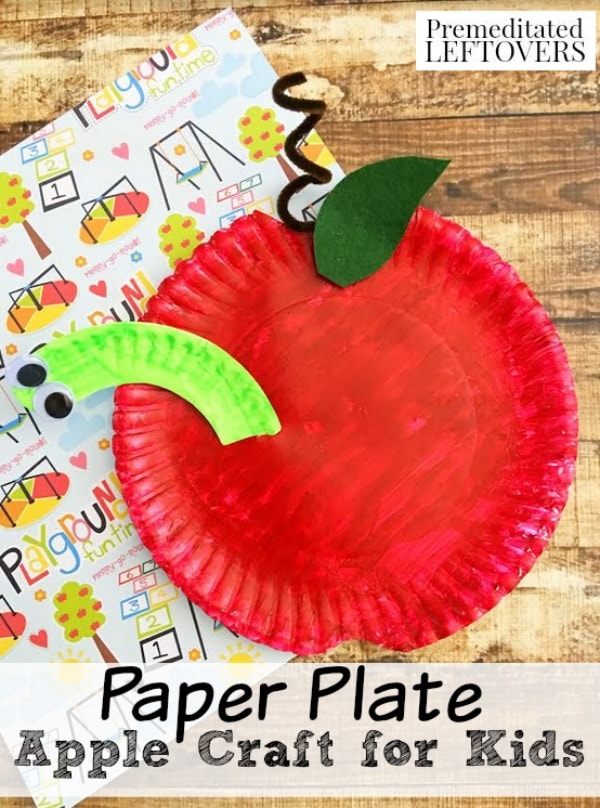 Paper plate crafts are so simple and easy to do. Kids just love them. With back to school season here and autumn on the way as well, what better time is there to do this simple Apple Paper Plate Craft for Kids?
This craft is good for preschool through early elementary age. It would also be great if you were homeschooling and studying the alphabet or focusing on the letter 'A'. You probably have everything to make it in your craft bin right now!
Apple Paper Plate Craft for Kids
Materials:
1 large paper plate
1 small paper plate
googly eyes
red and lime green craft paint
green sticky felt
brown pipe cleaner
Elmer's glue
scissors
paint brush
Directions:
1. Cut a small rounded tip triangle out of the bottom and top of your large paper plate This will create the indents that apples have.

2. Paint your large plate red and let dry.

3. Cut the side off of your small paper plate in a "C" shape, paint lime green (for your worm), and let dry.

4. Cut out a large leaf from your sticky felt. If you don't have sticky felt, a piece of construction paper will do just fine as well.
5. Twist a brown pipe cleaner around your finger and place at the top of the plate and stick the felt leaf over top to hold the pipe cleaner in place. If using construction paper, glue on well. Make sure to let it dry before moving it.

6. Cut a small slit (the width of your green worm) and slide the bottom of the worm in. You can glue it in place if you want.

7. Now glue two googly eyes onto the end of the worm and let dry.
More Fun Apple Theme Crafts:
DIY Chenille Apple Craft for Kids