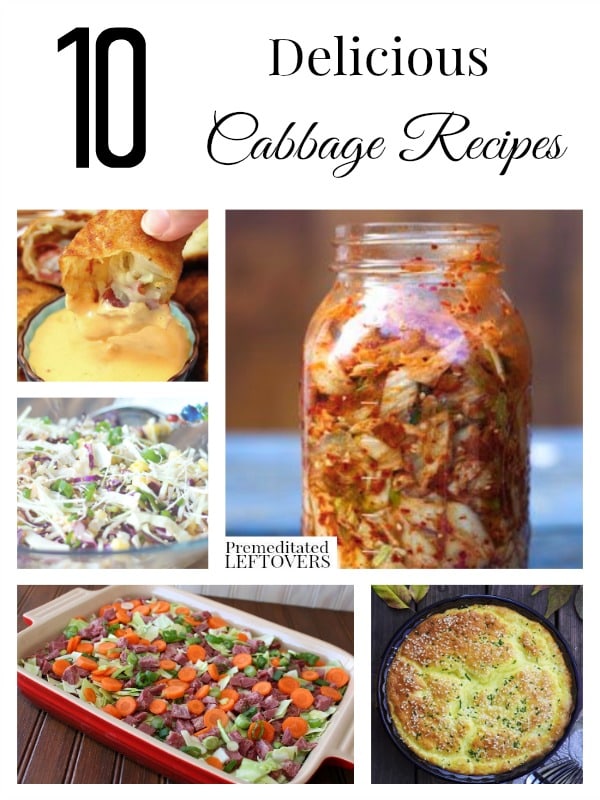 There is probably a reason that cabbage is such a big part of early spring time recipes and that reason is most likely that it happens to be in season. Look at St. Patrick's Day; cabbage is a big part of most people's meals. I like to use cabbage in many ways that lettuce can be used because I love the taste of it and the fact that in warmer dishes, it stays crispy. I use it on my tacos and when I make homemade gyros, they get a tossing of cabbage on top as well. Cabbage can be used in so many ways! If you have extra cabbage, try blanching it and storing it in the freezer. Make sure it is in air-tight containers. To help you use up the cabbage you have on hand, here are 10 delicious cabbage recipes.
10 Delicious Cabbage Recipes
If you are trying to use up cabbage after St. Patrick's Day, try making this Corned Beef and Cabbage Casserole.
Make these Stuffed Cabbage Rolls from Parsley, Sage and Sweet for a classic cabbage dinner.
This sounds amazing! I would love to try this Delicious Cabbage Pie from Lea's Cooking.
Jamie Cooks it Up features a wonderful tangy take on salads. Check out this Chinese Cabbage Salad with a peanut dressing.
Cabbage stars in this Stuffed Cabbage Casserole from A Cup of Marscapone. I think it looks absolutely beautiful and easy to make.
As I mentioned before, I like to put cabbage on my tacos and here is a tasty take on Fish Tacos with Cabbage Slaw and Spicy Siriacha Sauce.
Have you ever tried Kimchi? It is a spicy pickled cabbage that is popular in Asian dishes. You can make some Kimchi with this recipe from The Daily Meal.
For a new take on stuffed cabbage, try this recipe from Hip 2 Save called Green Chile Cabbage Enchiladas.
Everyone knows that cabbage makes coleslaw, but why not try something different? Try this Sweet Asian Slaw with Apples and Corn from the Reluctant Entertainer.
Check out this delicious looking Corned Beef and Cabbage Egg Rolls from Irish Central! Is that not awesome sounding?
Bonus: If you are running short on time on St. Patrick's Day, cook your Corned Beef and Cabbage in a Pressure Cooker in a fraction of the time other methods take!
What recipes do you plan on making on this list? I can't wait to try some of these!
More Recipes Using Seasonal Produce:
10 Amazing Swiss Chard Recipes