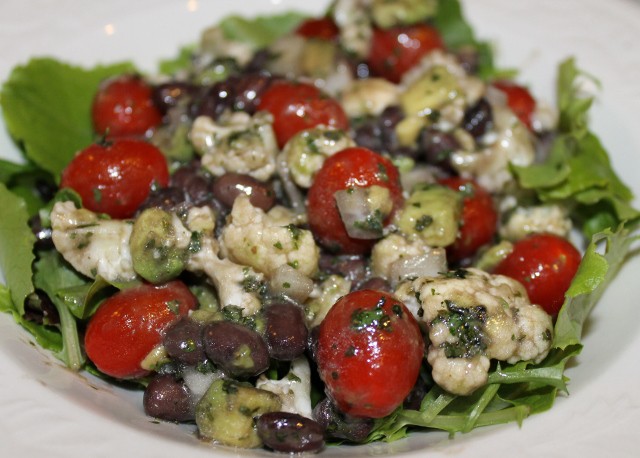 This is my fast and easy "oops I forgot to start dinner and now my starving family is looking at me expectantly" recipe. This salad comes together in under 10 minutes. The combination of beans and avocado make it quite filling despite the fact that it is a meatless dish. It is also a very flexible recipe. I used cherry tomatoes and cauliflower in the salad, but fresh diced tomatoes and broccoli would work just as well.
The dressing uses lime juice which have been on sale recently. I have also used this frugal tip for freezing the juice and zest of the limes so we can enjoy the limes later.

Black Bean Salad with Tomatoes and Avocado
Ingredients
1¾ cups cooked black beans (or 1 - 15 oz. can, drained)
1 pint cherry tomatoes
1 avocado, diced
2 cups cauliflower, chopped
½ small onion, diced
¼ cup fresh cilantro, shredded (or 2 tablespoons dried)
juice and zest of one lime
2 tablespoons olive oil
2 teaspoons honey (or sugar)
Directions
Place beans, tomatoes, avocado, cauliflower, and onion in a glass bowl.
In a small bowl, combine lime juice and zest, oil, sugar, and cilantro.
Pour the dressing over the vegetables and stir to mix.
Serve immediately or make ahead and place in the refrigerator until you are ready to serve.
I like to serve the bean salad over a bed of greens. The dressing from the bean salad seeps down and coats the greens.
Do you have a fast and easy dish that you can put on the table in 10 minutes?
I'm sharing this recipe with Tempt My Tummy Tuesday, Tasty Tuesday and the Hearth and Soul Hop.