I was asked to make cupcakes for a party we attended last weekend. I wanted to create unique flavors without frightening the guests, so I choose to make chai latte cupcakes with Chai Spiced Frosting for one batch. They have a mild, but interesting spiced flavor.
My daughter walked in as I was baking and said, "Asking you to bring cupcakes is like asking Gandalf to bring fireworks". I wasn't sure if that was a compliment so now my kids are making me watch LOTR again and have informed me that this time I must stay awake the whole time. I have no idea why, but for me, LOTR is like a sleeping pill, only more effective.
To make Chai Cupcakes, replace the liquid in your favorite vanilla cake mix with double strength, unsweetened Chai Tea. Put 2 Chai Tea Bags
in 1/2 cup of boiling water or milk, 4 Chai Tea Bags
in a cup of water, etc. Use water for Chai Tea flavored cupcakes and use milk (or almond milk) for Chai Latte Cupcakes.
For the frosting, I didn't use tea. Instead, I just used this homemade chai spice that replicates the flavors commonly found in masala chai or chai tea as we call it in America.
Chai Frosting Recipe
Chai Spiced Frosting
Ingredients
¼ cup butter, softened (or dairy-free margarine)
¼ cup milk (or almond milk)
1 teaspoon vanilla
2 teaspoons chai spice
4+ cups powdered sugar
Directions
Combine all of the ingredients in a bowl until just mixed.
Use a mixer and blend until smooth and creamy.
Test the consistency and add either milk or sugar and blend again to achieve the desired consistency for spreading.
Notes
This produces enough frosting to cover 2 dozen cupcakes or one 13 x 9 sheet cake.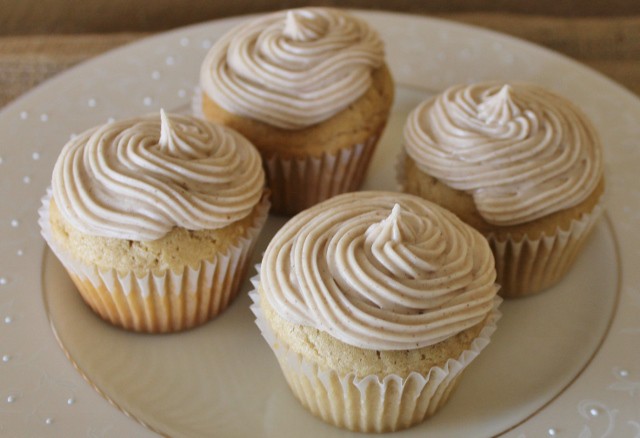 I used my Norpro Cupcake Decorating Set
to top the cupcakes with frosting.
More Frosting Recipes