Add a splash of flavor to your morning coffee with these dairy-free coffee creamer recipes.
If you are dairy-free, most commercial coffee creamers probably don't work for you. There certainly aren't as many flavor options in store-bought dairy-free coffee creamers. If you want more exciting flavor combinations in your creamer, try one of these dairy-free coffee creamer recipes. These dairy-free creamers are easy to make and give you control over the ingredients.
Dairy-Free Coffee Creamer Recipes
Let's start with a classic taste. This 3 Ingredient Dairy Free Coffee Creamer recipe from What the Fork is your favorite vanilla flavor.
If you are looking to break away from the norm, this Homemade Lavender Turmeric Dairy Free Coffee Creamer from Paleo Hacks is full of good anti-inflammatory ingredients.
Cinnamon Vanilla Coffee Creamer from Fit Views is keto friendly and super easy to make. It only requires only 4 ingredients. You could make this in a hurry!
Naturally sweeten things up with this Cashew & Date Healthy Coffee Creamer from Hungry Hobby. I bet this recipe tastes phenomenal.
Make homebrew taste like a coffee shop latte with this dairy-free Caramel Vanilla Coffee Creamer from Fashionable Foods.
Holiday tastes will be ready for you any time of year with this recipe for Vegan Gingerbread Coffee Creamer from ExSloth. It has a richness to the recipe so I bet it tastes amazing!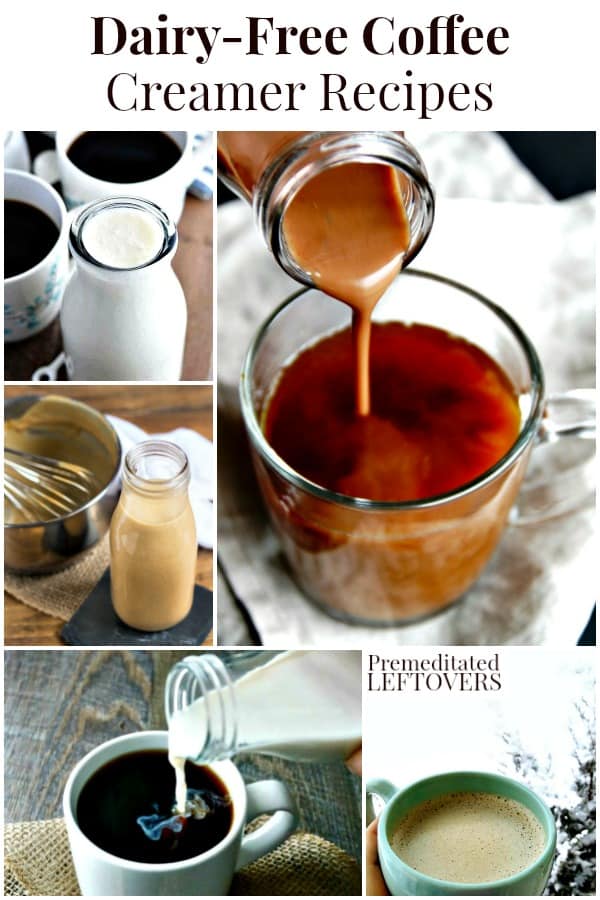 If you prefer powdered coffee creamers, try one of these recipes from How to This and That. There are 3 different flavors: Mocha, Pumpkin Spice, and Vanilla Bean and Nutmeg.
Running with Spoons shows you how to make a delicious Dairy-Free Peppermint Mocha Coffee Creamer. What a great recipe for the holiday season!
Make this Paleo Vanilla Coffee Creamer from Joy Food Sunshine for an easy way to get your coffee perfect each morning.
Physical Kitchness got creative and made a Paleo and Vegan Snickers Coffee Creamer that is excellent, especially if that happens to be your favorite candy bar like me!
No coffee creamer recipe list would be complete without everyone's favorite! Make your own Dairy Free Pumpkin Spice Coffee Creamer with this recipe from Running with Spoons.
A Mind 'Full' Mom shares a great recipe for a new twist on a favorite. Check out her version of Dairy-Free Coconut Vanilla Coffee Creamer.
Louisiana Bride has another candy bar favorite in coffee creamer form. Try making your own Vegan Almond Joy Coffee Creamer for a sweet treat.
More Dairy-Free Recipes
How to Make Fluffy Dairy-Free Chocolate Frosting
Dairy-Free Peaches and Cream Popsicles
Dairy-Free Whipped Cream Recipe