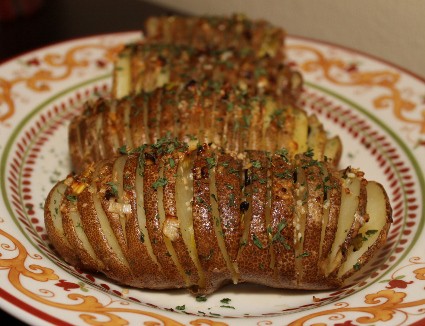 Today I am sharing my fast and easy Hasselback Potato recipe at $5 Dinners. I accidentally created a faster version of one of our favorite potatoes recipes and just had to pass it on.
I am a meat and potatoes girl. I enjoy growing my own potatoes and grow 3 – 5 varieties every summer. From looking at the list of potato recipes you might think that it is all I feed my family, but I promise they do eat a well balanced diet.
More Potato Recipes:
Scalloped Potatoes
Twice Baked Potatoes
Garlic Mashed Potatoes
Mashed Red Potatoes
Purple Mashed Potatoes
Hasselback Red Potatoes
Fast and Easy Hashbrowns
Garlic and Rosemary Red Potatoes
Herb Roasted New Potatoes
Sauted Potatoes with Italian Seasoning
Roasted Potatoes and Recipe for Dry Onion Soup Mix
Savory Mashed Potatoes with Cauliflower and Celeriac
Sweet Potato Recipes:
Chai Spiced Sweet Potatoes
Roasted Sweet and Gold Potatoes
Pumpkin Pie Spiced Sweet Potatoes
Roasted Sweet Potatoes and Cauliflower
Hasselback Sweet Potatoes with Cinnamon Honey Glaze
Pumpkin Pie Spiced Sweet Potato Fries

What is your favorite way to eat potatoes?