If you want to know why we drink lots of coffee with French Vanilla Creamer, keep reading. If you are looking for my Homemade French Vanilla Coffee Creamer recipe, scroll to the bottom of this post.
Instead of telling you about Mother's Day, I thought I would tell you about the day before Mother's Day.
When raising our first batch of children my husband was very involved and often gave me a break so I could have "sanity time". My children quickly established the connection between my need for sanity time and their behavior. One day after my two oldest children made a three story spider web with yarn from my knitting basket, they greeted my husband at the door and said, "Mom really needs sanity time tonight".
Fast forward to our last child who was born 14 years later. My husband has a demanding job and often has to work on the weekends. When he is not working at either of his jobs, he is playing with the kids, helping with homework, maintaining our vehicles, or our property. The only "me time" he takes is to go to the gym and he usually does that at 5:30 in the morning when the rest of us are asleep. So I only leave him with my youngest child when I absolutely have to. Which is why my husband had never spent an entire day caring for our youngest child on his own until last Saturday.
I often refer to my youngest son as my husband's clone. He is intelligent, creative, and very energetic – wonderful qualities in a husband, exhausting qualities in a 4 year old. I occasionally call my husband and share stories from my day which he, from the comfort of his office, finds amusing. When I called and told him about my son writing math equations in permanent marker on the closet door, he laughed and asked if they were correct. I told him they were and my husband's laughter brought me the relief I needed to get through the rest of the day.

On Saturday, I set out to visit one of our horses who has been sent to a training farm for instruction. I only intended to be away for a few hours, but one thing led to another and I ended up being out for 7 hours. Here are the highlights from the day:
11:30 I called my husband and he told me Andrew was bouncing off the walls so he took him to the park.
12:30 I called my husband and heard Andrew screaming in the background. My husband said he was "never taking Andrew in public again". I suggested Andrew's mood would improve with food.
1:30 I called to let my husband know I was going to be delayed further. He said, "food is overrated all it did was give Andrew more energy and he is back to bouncing off the walls".
2:30 I called my husband to check on him and he said, "I completely understand how a mother could get addicted to crystal meth. This is exhausting".
3:30 My husband called me and said, "Don't come home with out caffeine, lots of it".
4:30 I walked in the door with a bag of coffee to a very grateful husband.
I didn't realize until that moment how long it had been since my husband spent an entire day caring for a young child on his own. I feel really bad about taking pleasure from his pain, but his renewed appreciation for what I do every day was the best Mother's Day present.
French Vanilla Coffee Creamer Recipe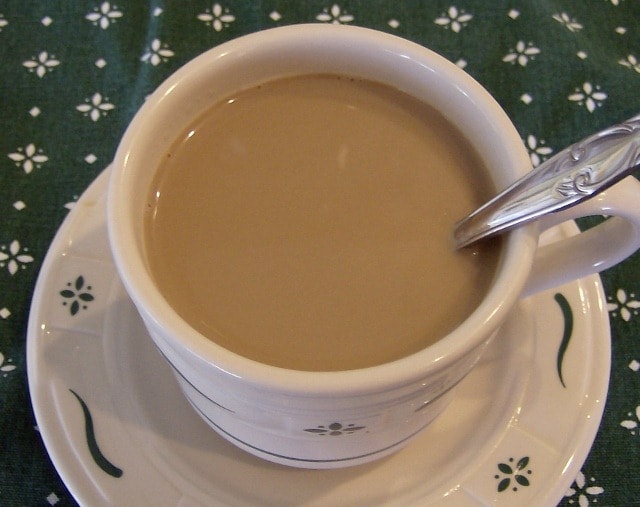 My husband asks for his coffee "with maximum pollutants" which after I read the label on some of the store-bought creamers seemed like an appropriate description. In an effort to reduce the "pollutants" I created my own creamer recipe for my husband's coffee.

Since I started making my own creamer, my husband stopped buying coffee at coffee houses which saves us quite a bit. My daughter adds this creamer to her Chai tea and both of my teenagers add some to their cocoa.

Homemade French Vanilla Creamer
An easy and frugal alternative to store-bought French Vanilla Creamer
Recipe type:
French Vanilla Creamer
Ingredients
14 oz. can of condensed milk
28 oz. milk
1 T - 1½ T vanilla
Directions
Pour the can of condensed milk into a pitcher.
Fill the empty can two times with milk, adding the milk to the pitcher.
Add vanilla to taste. Stir well.
More Homemade Coffee Creamer Recipes
Easy Hazelnut Coffee Creamer Recipe
Vanilla Caramel Coffee Creamer Recipe
Peppermint Mocha Coffee Creamer Recipe
Here is another one of my coffee house recipes that I love: Homemade Chai Latte Recipe!