Lemonade is a ridiculously refreshing treat when the temperatures start rising fast. That delicious combo of tart and sweet can help combat even the hottest and stickiest of days. But don't go reaching for a plastic canister of ready made lemonade when it is so easy to make your own.  Once you give homemade a try, you will never slide back into that fake abyss where the lemon is artificial and the coloring is questionable. Add mint for a refreshing and cooling aspect and you will have the best lemonade you have ever tried. This Homemade Mint Lemonade is simple enough for just enjoying yourself in a mason jar but "fancy" enough to impress your Sunday company in crystal goblets.
Homemade Mint Lemonade
Ingredients:
1 cup water
1 cup granulated sugar
3-4 mint sprigs
8-10 lemons (or equal to 1 cup juice)
additional water
ice
Additional materials: 
Directions:
1. Tap the back of a spoon on the mint to release the oils.
2. Place 1 cup water, sugar, and mint sprigs (use just two for a subtle flavor) in a saucepan over medium heat. Stir frequently until sugar is completely dissolved.
3. Remove from heat and set aside to cool.
4. Microwave lemons for 2o seconds. Remove and roll between hands or on a hard surface, then slice in half.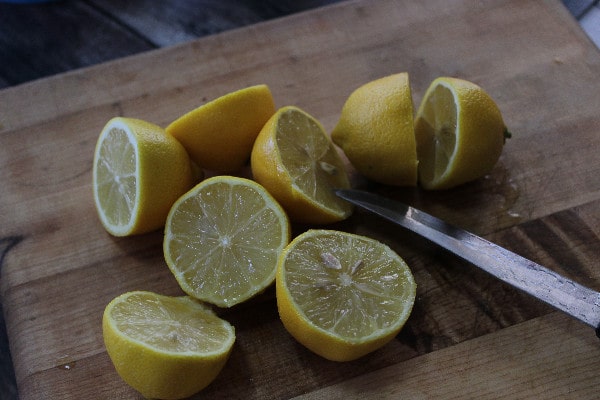 5. Squeeze juice from lemons using a simple juicer or whatever your favorite method is.
6. Pour juice in pitcher then fill with ice.
7. Once cooled, pour the sugar and mint mixture into the pitcher and add water to fill to the top.
8. Stir well to combine all ingredients.
9. Depending on your preference, you can remove the mint or leave it in the jar for a pretty presentation.
10. Serve or refrigerate.
You may find that you like your lemonade a little more or less tart. This is an easy fix by adding more water or lemon juice.
More Cold Drink Recipes: