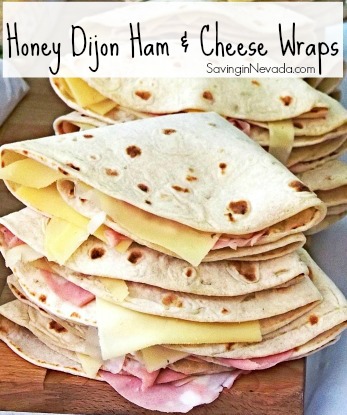 My kids love when I pack them "grown up" food in their lunch boxes and for some reason my boys believe that wraps and quesadilla's are grown up food. One of my boys favorite things for me to pack are these simple fold over wraps/quesadilla style sandwiches. Easy Lunch Box Wraps are fun to adapt to your family flavor preferences and of course if you have allergies or special dietary needs this is a great way to accomplish safety in what you send. Gluten free tortillas or wheat tortillas are available for those with different allergies. Low sodium, low fat, soy and other cheeses and meats can be readily substituted and of course personalizing with your son or daughters favorite condiments and vegetables is key. Our go-to lunch is of course the classic Ham & Cheese with a slight twist. We add a hint of Honey Dijon Mustard before we toast ours.

Honey Dijon Ham & Cheese Wrap
Ingredients
1 large Tortilla
3-4 thin slices Ham Luncheon Meat
¼ Cup Shredded Mozzarella
1 Tablespoon Honey Dijon Mustard
Honey Dijon Mustard
2 Teaspoons Mayonnaise
1 Teaspoon Stone Ground Mustard
1 Tablespoon Yellow Mustard
¼ Cup Organic Honey
Directions
Mix mayonnaise, stone ground mustard, yellow mustard, and honey together in small bowl until well blended. May add additional honey if you prefer a lighter mustard flavor.
Spread 1-2 Tablespoons Honey Dijon Mustard on tortilla.
Top with luncheon meat and cheese. Place on baking sheet and bake for 5-7 minutes at 375 degrees until cheese is bubbling.
Remove from oven and fold like a quesadilla or roll as if a wrap. Slice for easier serving.
May be wrapped in plastic wrap and sent in lunch box or served immediately.
More Lunch Box Recipes:
The Ultimate Quesadilla Recipe Round Up
Katie is the owner of You Brew My Tea. A place where love and the mysteries of life meet a frugal mom with a big opinion about everything!