Stainless steel pots and pans can be very difficult to take care of. Stainless steel is also one of the best types of cookware on the market. You will find that stainless steel is extremely durable, cooks evenly and can last you a lifetime! Below are tips for how to care for stainless steel pots and pans.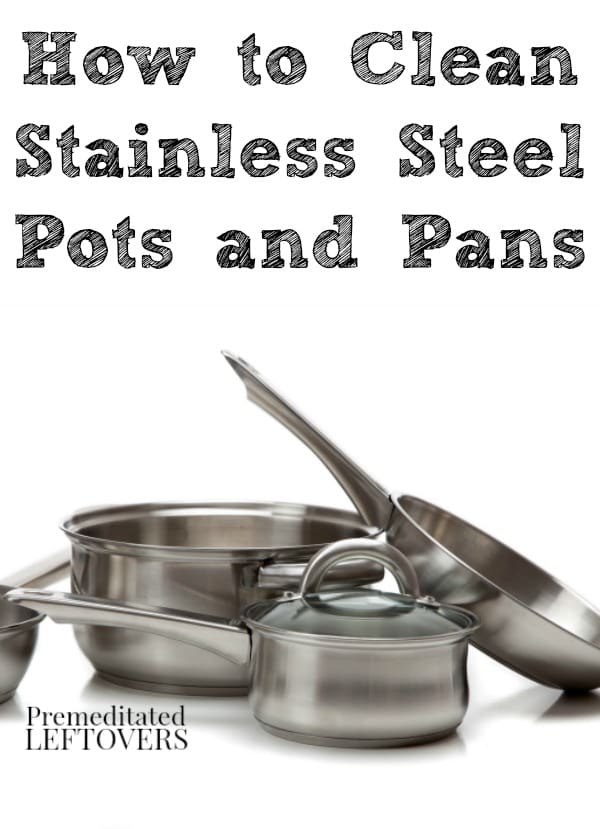 How to Clean Stainless Steel Pots and Pans
Removing Built-up Food
When cooking with stainless steel it is easy for food to stick to the pan. Should this happen to you, soak the pan in hot soapy water overnight. You will then want to scrub the pan with a scouring pad. This should take away any built-up food that was left behind.
You can also cover the pan in baking soda, mix in a little water to create a paste and then let soak for several hours before you scrub.
Removing Burn Marks
If you leave your stainless steel pan on the stove for to long, you might end up with burn marks. These burn marks are typically left on the bottom of the pan. Should your pots or pans get any burn marks, sprinkle baking soda over the bottom of the pan and then scrub the bottom of the pan with a sponge.
If this method doesn't work you can try filling up your pot or pan with water and bringing to a boil. Once the water has started to boil, turn off the water and add in a few tablespoons of salt. Let the water sit in the pan for 2 to 4 hours and then try scrubbing the burn marks off. You can repeat this process several times.
Supplies
When cleaning stainless steel you want to ensure you are not using any abrasive materials. Using something like steel wool will end up leaving your pots and pans with scratches.
You can use vinegar to remove any built up calcium deposits. If you see any calcium deposits, soak the pan in some vinegar for a few hours and then clean with a sponge and mild soap.
How to Season Your Stainless Steel Pots and Pans
Seasoning your stainless steel pots and pans can help to prevent food from sticking. Seasoning your stainless steel pots and pans is easier than seasoning your cast iron pots and pans.
Start off by placing your pan over medium-high heat and let it get nice and hot. This should only take a couple of minutes. You will then want to add a tablespoon of olive oil to the pan. Make sure you you take a pan off the heat prior to adding in the oil. Make sure the whole pan is coated in the oil and then put back on the heat. Once the pan begins to start smoking, turn off the heat and let the pan cool completely. Once the oil has cooled, pour out the oil and then wipe away any left over oil.
If you do season your stainless steel pots and pans make sure not to wash them with dish soap. Also keep in mind that you will still need to add a little oil or non-stick when cooking.
More Kitchen Tips
How to Clean a Waffle Iron with a Paper Towel
5 Steps to a Sparkling Clean Kitchen