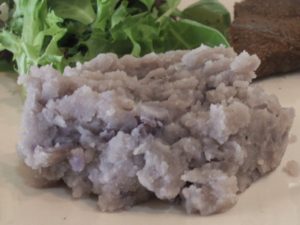 This is a fun twist on traditional mashed potatoes. I have found blue potatoes to be quite hardy and enjoy growing them in my garden. Whenever I share them with my friends they ask what blue potatoes taste like. Blue potatoes taste like potatoes, only a little more so. If you usually eat bland russet potatoes, you are missing out on a lot flavor…and color!
Purple Mashed Potatoes begin with blue (or purple as they are sometimes called) potatoes. If you cut into a blue potato, you will discover that the inside is purple too. Even if you peel the deep purple exterior, you will still have purple potatoes. Aren't they gorgeous? They make a colorful addition to any recipe that calls for potatoes.

Purple Mashed Potatoes
Ingredients
2 lbs. blue (or purple) potatoes, quartered
1 teaspoon garlic powder
2 teaspoons onion powder
2 Tablespoons olive oil
pepper to taste
½ – ¾ cup vegetable broth (How to Make Vegetable Broth)
Directions
In a large pot, boil potatoes until they can easily be pierced by a fork.
Drain and rinse the potatoes.
Mash the potatoes; adding spices and oil.
Add the broth slowly to achieve the desired texture.
More Potato Recipes:
Scalloped Potatoes
Twice Baked Potatoes
Garlic Mashed Potatoes
Mashed Red Potatoes
Hasselback Red Potatoes
Fast and Easy Hashbrowns
Garlic and Rosemary Red Potatoes
Herb Roasted New Potatoes
Sauted Potatoes with Italian Seasoning